EDITOR AND EDUCATION CONSULTANT
| | |
| --- | --- |
| Posted on April 4, 2015 at 5:16 AM | |
Though I am an animal lover, I have only kept a pet rice paddy fighting fish at home before. It had a very short life span, which a neighbour abruptly shortened while I was away one weekend and took her job of fish care so seriously that she used toxic detergents to clean out the fish bowl because algae had gathered (-a thing I specifically told her not to do. Yeah, that woman had "issues".) 
Sure, there were family pets over the childhood years: two cats and a dog. With or without children, however, I personally thought it was not good for the pets and very selfish and wasteful of the humans to indulge in pet keeping at home. Being single for a lot of my life, I must also say that keep pets seemed like an unnecessary and foolish expense. Anyway, most homes do not have adequate space for dogs, for instance, and most people do not give more social animals like dogs enough opportunity for social interaction with their own kind, not to mention exercise. They may be neglected, though people can drive pets to become highly neurotic with smothering and too much human attention. Furthermore, pets usually do not get enough exercise and are kept too confined. Then there are the freaks who indulged in buying "exotic pets" like wild cats and pigs, which they could not look after properly, of course, and often escaped or were released into human society once they became too big, too expensive and too troublesome to keep. If they were not injured by their animal, it may have been injured itself by abandoned, or it might have harmed humans and other animals out in society. Did you know that there are more feral endangered animals living in the US than all the endangered wild animals all tolled? Yeah, reports of panthers, crocodiles turning up in backyards, city streets and parks keep coming in. Apparently, there are deformities and mutations, as well as distemper among some of these strange beasts.
Despite all these misgivings, I have always dreamed of owning a bird. Now I have a tiny Gouldian Finch. He is utterly delightful and very pretty. He whistles, sings, and plays. I found as large a cage as I could get and fit into my one room, and it adjoins a smaller cage. Regardless of his cage size, he is let out into the room a few days a week. He is very well behaved and clean. With one favourite perch in an ideal location atop the inner door sill of a sliding inner door, what little mess he makes stays in one place. He is not like a little mammal, which would run amok getting into little dangerous dark places, tearing and chewing at things, climbing on furniture and getting into human food. No, he just flies a few times back and forth across the room, hanging out on the main perch, but landing very briefly at 2 or three high locations in the room. He does not seem motivated to squeeze into little places he shouldn't be in. He has not even gone into the bathroom, as far as I know, though the door has often been left open to extend his flying space. No, we know our roles and our places in this household. He sticks to his bird things and bird places, and I stick to my human things in my human space. 
Until today, it was a job catching him to put him back in his cage in the evening sometimes. When he gets sleepy, he becomes passive, and it is easy to quickly grab him with a hand and transport him to the cage. However, there have been times when he still energetic, and pursuing him has made him playfully engaged in a game of bird and human. Today, however, things changed. He finally went back into the cage on his own volition and power. That is because I resisted the maternal temptation to leave food and water for him up on his door sill perch. Perhaps the bigger cage and the branches I laid atop it made the prospect much more attractive. Whatever his motivation, I returned home after having let him out of the cage around 9:30 in the mid-afternoon to find him feeding in side the cage
Another new life experience: having a pet. Having the little tyke around is a great source of joy. He sings to me each day, and in return I keep him well fed, warm and amused. It is not difficult looking after him. I am around for at least part of the day, most days, and he has things to do when I am not there.
I am thinking about whether to find him a bird companion, perhaps one of his kind, but the experts say this type of bird does not suffer alone. It can make its life more interesting to have company. I am concerned about compatibility, and how I could manage two of them.
Anyway, I can say that it has been an uplifting experience to have such a fine and beautiful little creature to be my companion. I am glad and grateful he's with me.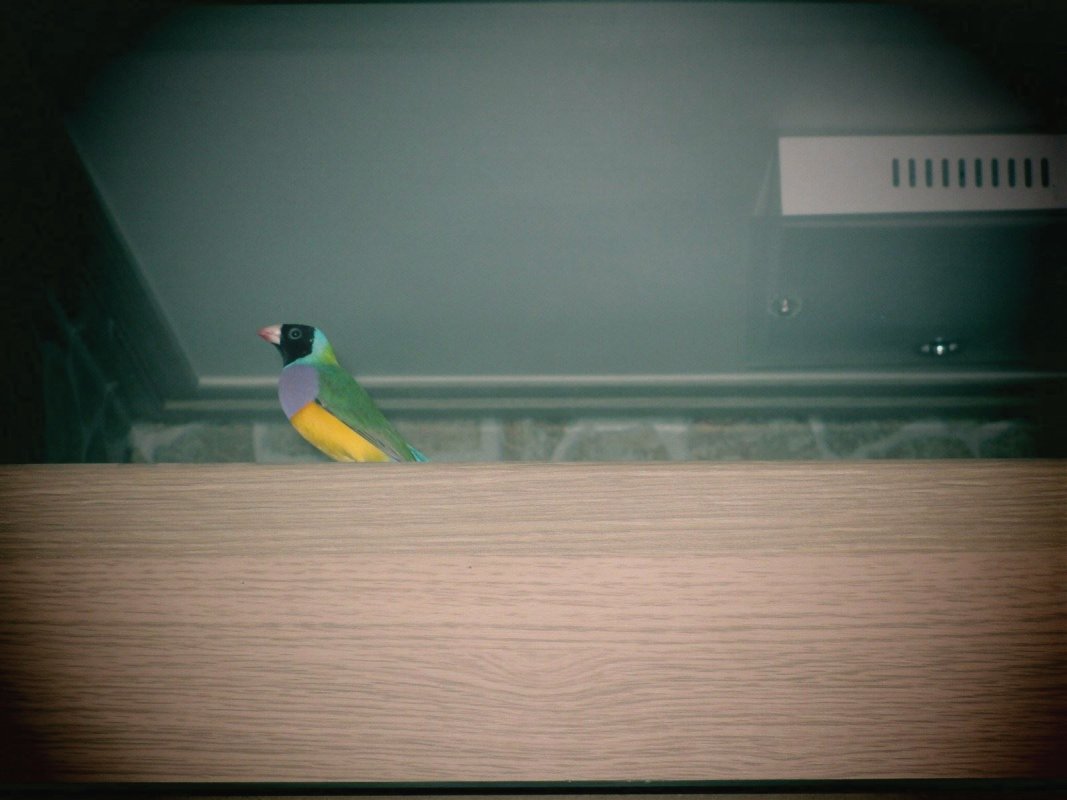 Categories: //, communication, living, positive thinking, relationships
Thinking and Doing It Positively
Household Treasures

11 January 2021

I heard an interviewee speaking over the radio talk about cherishing items in the home. It is one way to explore and enjoy surroundings without traveling, he said. ​I'll try it.




A lot of objects on display in my apartment are artifacts from my travels, ironically. They refresh my most poignant memories of precious and mind-opening explorations.




Sitting atop the filing cabinet next to my desk are to souvenirs from South Korea, where I worked and resided for 10 years. After such a lengthy stay, I have loads of memories prompted by numerous artifacts of my experiences in that country. These two are among the best reflections of cultural and historical particularities of South Korea. They are a framed photo of a hero central to the labour and national democratic struggles and an ornament from folk culture in the countryside of the southern part of South Korea.




Jun Tae-Il was a courageous student activist leading actions against the last dictatorship in his country. He represents the heart of the movement and the victory for democracy. He became a martyr when the police fatally shot him while he was demonstrating in the street in Seoul, the capitol. The ornament is an ceramic fertility fetish, an image of a penis from one of several such parks in the southern region where I used to live. This part of the country remained tribal longer than other parts, so folk traditions such as shamanism and superstitions have endured. Fertility monuments were erected (pun intended), of course, bring about more healthy children. The foreigner exploring such parks giggle at the sights.




Next to the filing cabinet is a bookshelf. One of the most noticeable objects near the top of this piece of furniture is a tacky, plastic, white alarm clock. It is significant because I bought it to ensure I woke up on time on my last morning living in South Korea. I had an early flight. As a small travel alarm clock had recently failed, and I was not sure my phone alarm would wake me fully, I picked up a cheap clock at a local general store. I don't use it as its ticking is noisy, but I have not thought to give it away. It remains perched on the shelf, deprived of a battery, as a reminder of my departure from the ex-pat life and return to Canada.




I also have items saved from two trips to Cuba, one in 2003 and one in 2019. Both trips were organized political events. The first took me there with a political choral group to meet Cuban choirs, learn some of their songs, perform with Cubans, attend the May 1st rally, meet labour associations and tour the island for two weeks. I am looking at a typical replication of a sketch of Che Gevarra which one can find easily in street markets. Our choir, supportive of the Cuban revolution, valued the Cuban revolutionary democracy, social arrangements and political principals which that image, the most famous in all the world, represents to millions of people. It inspires and gives hope. I remember strolling through the streets, visiting markets and restaurants, chatting with locals and attending all the meetings on our hectic schedule. I have other little treasures such as a ceramic, hand painted ashtray, photos of our Cuban comrades, and an African-Cuban, wooden statuette.




Above my desk hang a pair of water colour paintings in wood frames. They portray sites in southern Manitoba in the general area where my grandparents met, married and bore my mother. They feature two views of the banks of the Red River, a river highly important to Canadian history. There were battles against invading Americans launched there and a key struggle of the Métis nation. The city of Winnipeg lies nearby, which used to be the industrial hub of Canada until the Panama Canal opened up and undermined the Canadian railway system. I have only passed through Winnipeg by car. This area is not one I remember, for I have never visited it.




On the floor near my desk lies a wicker hamper. I have mixed feelings about it, but it has been very useful, so I have kept it. You see, it belonged to my father's second wife. My father remarried this odd, older person rather quickly after my mother passed, which denied her children necessary time to adjust. I carried resentment about her, but chose to avoid them rather than say anything or show my negative feelings. As I said, it is a practical item for it holds linens and Christmas stuff and allows aeration through the woven stems.




I originally bought the filing cabinet to organize research, not academic information but information found in the course of activism and stabs at political journalism. It therefore stores records of several international and regional conferences. Though I purge it once in awhile, there are still clippings, leaflets and pamphlets. They cover issues such as Canadian mining firms abroad, human rights cases, privacy rights, student concerns and transportation. I have been replacing old articles and folders with my own writing pieces. Among them are also old, self-published newsletters addressing local and international issues, some of my published articles and unpublished poems.









It is so good to be able to express myself and have contact with readers through this blog again. The loss of the access to my blog along with other aspects of confinement and restrictions really affected me. There were added unsettling restrictions due to circumstances, even including access to my games when Adobe Flash Player was removed. I was feeling the mounting stress of rising COVID cases and the awareness of the damages inflicted by this disease as well as the damage inflicted by states that remain focused on helping profitable enterprises more than addressing the disease and health care and financial interventions fully and equitably. Most such as Canada are handing the responsibility of pandemic management to individuals. Very unjust!
I had been handling the conditions of the pandemic fairly well, but emotions were catching up to me in December as I personally began to feel tired and stressed. I started to feel irritable and alarmed. I looked forward to two weekends at home over Christmas and New Years, but the employer wanted me to work on the Saturdays. Saturday being the heaviest work day for me with five hours straight teaching and two hours travel, I had been wanting relief to get a chance to rest and calm down. I ended up taking the Saturday following NY Day off, which certainly helped. I am much better now.
I did not carry through with my usual practice of personal assessment and planning in December as is my habit. I was too agitated. I did not want to reflect on this past year, actually. Not then.
Anyway, there is not any change in my goals. I generally carried through with financial, livelihood, social, family, health and growth goals. However, the social and family goals were frustrated by Covid-19 rules. However, there are elder relatives with multiple health problems whose mental health was being upset by the situation, so I have been visiting with them in cafes and such. They are better now. I have also been aiding an elderly neighbour whose health, already in decline this year, was getting worse partially because of Covid-related restraints. (Her degrading sight and hearing, as well as shaking and loss of balance, caused her to stop driving permanently, and skeletal issues caused her to stop regular exercise. She is worried she will be forced to consider entering a facility while many care homes are in crisis!) My exercise regime was also compromised. The local fitness center remains open but I perceive it as risky, so I do not go there. Aside from some hiking and walking to accomplish transit and errands, I haven't been exercising much until recently. Now I do some yoga, lunging, stretching and weighted arm raises sometimes. I am prevented this week because of an inflammation (hemorrhoid caused by lengthy sitting!).
One big factor affecting stress and anxiety levels is news reportage. State and private corporate news services, like most enterprises today, try to streamline by relying more on tech and web browsing to find news topics. There are fewer reporters and there is less extended, investigative reporting. For the past decade at least, such services have resorted to "conversational journalism." It is an adjustment to distrust of news and official authorities during a trend of democratization, I feel. However, it tends to keep popularity and viewer or reader stats in mind. Topics can be sensationalized by rehashing events and speculation. Commentators are brought in to discuss as are senior reporters, but the discussion is not very productive in that it does not lead to increased knowledge. Rather, it keeps generating more questions. Conversations often entertain unanswerable questions, particularly because there can be no resolution. They just push the topic and stimulate possible answers to stir up controversy and alarm in order to improve ratings. Pertinent information might be omitted if it actually answers a question. Once audiences abandon a thread, they turn to some other topic and start over. It is really unconscionable because of the innuendo, speculation, rumour, omission, lack of investigation, assumptions and biases.
The COVID coverage is a clear case in point. Partial information is supplied, such as a medical official's announcement that is partly based in some truth. The announcement is questioned. Opponents are recruited to present the false arguments. Sideline topics are raised to create more friction. Proper sources are ignored. Questions are recycled and spin round and round with no conclusion. The affect is understandable: alarm, anxiety, fear, stress, accusations, complaints, etc.
I follow a couple of doctors who produce daily videos to update viewers on scientific developments and explore reasoning behind government and medical decisions regarding the pandemic. I rely on Dr. John Campble and Doctor Moran. Find them on Youtube. Campbell is the most digestable, for he uses plain English, which Moran is more technical. The latter seems to be addressing people in the medical field. By following Campbell, in particular, I can see the gaps in the regional and national news reporting. I can see that they are lagging behind the news by ignoring or failing to search for reliable information.
Apologies to my followers and viewers. You have been very supportive and encouraging for many years. I might have disappointed some of you who were looking for new entries from me.
Let me explain. VISTAPRINT changed its platform last year. When they did that, the method for making blog entries changed. I had no information from them about what to do. It simply appeared that I know longer had any blogging service.
However, I just spoke to a VISTAPRINT rep who guided me. I can now write blog entries, as you can see.
It was a strange year all the way around. Things seemed kind of more chaotic than usual. I felt agitated and stressed last month for no definite reason. I had trouble sleeping. I felt exhausted.

My general astrology reading asserted that the pulling away of Jupiter, one of my planets and a very powerful one, from Saturn would make Sagitarians feel exhausted by the end of December. Despite the restrictions imposed because of the pandemic, it does indeed feel like I worked and accomplished a lot (activism, teaching, writing). Things are supposed to get easier for us Sagges.
There was added stress because of the effects of the pandemic. Not only that but worse, state aggression seemed to increased around the world, causing civilian mass responses. Though I had handled it pretty well until the end of 2020, I guess it finally got to me and I started soaking up some of the stress and anxiety emitting from my region and beyond.
2021 is starting out a bit weird, too. Just look at yesterday's events. U.S. Whitehouse invasion. Solar flare sending rays that caused several storms, earthquakes and volcanic eruptions. More lockdowns.
I wish all my readers well. I will resume entering focused pieces when I have more time. Please stick with me. Thank you for your comments to date.
Ed Wise
THIS IS A TEST OF THE NEW PLATFORM FORMAT AND BLOG ENTRY SYSTEM.
/