EDITOR AND EDUCATION CONSULTANT
The cooperative movement encourages and assists the formation of worker co-ops. Advocates and their organizations lobby for legislation to require companies to first offer their employees to buy their firms before they invite other interests to do it. Such legislation exists in some states such as the UK and some within the United States of America. Some employers prefer to do this, for they respect their workers and their work and do not want to cause them harm. They may believe that their businesses would be in better hands were the employees to take them over rather than strangers and people who are not so familiar with them.
Where there are allowances for workers to take over the ownership of enterprises, rules and a lending system are in place. The government provides low interest loans and a framework and training for workers' collectives to be able to run companies themselves. In some cases, workers can make arrangements and find funds on their own. There are organizations within the cooperative movement who can educate and facilitate such takeovers.
The cooperative movement does not challenge or object to trade unions; there need not be a conflict. Some unions support workers' co-ops, for they see them as allies and the co-ops, if unions are friendly, see the unions as allies. Collective agreements can offer ideas for the terms of a cooperative arrangement that guarantees and protects the workers rights and safe and reasonable working conditions. However, a worker-owned business would not need a union. Worker's unions are established as a defense against exploitation by owners as all owners of private enterprises profit from the labour of their workers and they do so by keeping wages down and trimming overhead costs by withholding resources and measures that would make workplaces safer, healthier and more comfortable. Private owners certainly do not want to give over the decision-making to workers--no way! They have management to impose restrictions such as time limits and methods. Workers are always pushing back to improve their earnings and conditions.
A cooperative is far more democratic. Workers within it, whether it is a fast food enterprise or a factory, meet and have an equal say in how the work is done. This arrangement is far different from the typical employment where the owner and his representatives command the workers, dictating everything they do at work, from when and how long to use the toilets and take meals to procedures and reporting. Contemporary workplaces may adopt a friendlier management style that shows signs of more respect and appears to consult employees, but you know that the employees' say doesn't count for much; it is still dangerous for them to say anything as their words can be used against them in the end. While there can be all sorts of personalities and ideas present in a cooperative workplace, the relationship of the employees to it and their work is fundamentally different. People simply cannot be abused much since their is no owner exploiting them and everyone who works there has an equal status. True, there can be variations in salary levels considering varying education or training and experience levels, and a bonus system can be implemented as an incentive or reward.
The cooperative workplace has potential to develop a communal environment wherein workers get to know each other, socialize and assist each other with the problems and demands of life even outside work. In fact, there is a societal vision and philosophy around the worker-owned-and-run cooperative enterprise. It is a vision of a cooperative and caring society with a profound democracy. It is a new kind of communism, a society empowering the people at the base without a government functioning as a centralized decision-making order overseeing and commanding the society. Government has a role in providing services and resources and setting regulations and laws. However, it is one with proper representation of the people, not business owners that dominate and drive and bribe the government to do their bidding to make life richer and more comfortable for them alone. No, it would be a government with proportional representation, perhaps with regional and national election candidates coming from councils filled with nominated and elected workers from the cooperatives and other mass organizations.
There is also a vision of new kind of international relations based on cooperation and aimed at avoiding and settling conflicts through negotiations that would not allow war to break out. the United Nations Organizations would have to be rebuilt and refitted to serve these aims.
An model of a cooperative world has been drawn up by the "All things Cooperative" division of "Democracy @ Work". Here is a link to a video about it.
https://www.youtube.com/watch?v=u-T0XOA5hI0

Without the communal experiences that common people set up for themselves, life is harder and colder. Without the social and recreational organizations, ceremonial practices, neighbourhoods in action, nonprofit organizations and various associations in which relationships and support networks, what is there?
Workers do not have control over their workplaces, so communal experiences cannot be counted on there. Except for recognitions of birthdays, the Christmas party and occasional lunches together, if the they are lucky, employees must perform prescribed tasks on a given schedule and be subject to monitoring. Atmospheres and management styles can vary, but generally employees grab what chance they can to enjoy the coworker relationships but beat it home, happier to escape the confines of oversight and regime in an enterprise directed by others who reap the most rewards.
School does not always provide relief, either. Private schools are generally business or religious settings run according to a corporate model with its quantifiable assessments and goals. In many countries, public school is an institution regulated and prescribed by government, and are often large. From upper elementary ("middle school" to some) through secondary school, the ambiance cools down and the focus on scores is sobering. After years of neoliberal austerity measures, too, there is nothing much in the budget to provide extra-curricular and cultural experiences. Even if there are student clubs and a student council, the object is career driven, with the ambitious eager to scratch notches on their resumes. Teachers and concerned observers complain how schools, reformed and relaxed somewhat in the 60s, have become like factories.
At least any school is a place where friendships are made. The local elementary school might be the only locus of communal activity. The degree of communalism depends on the location of the schools. Some school boards that ascribe to a more humanist approach, especially as concerns the youngest of the student populations. Parents are involved. There could be exchanges and special days. Teachers can assess a student's wellbeing, family life and outlook and try to intervene with one sort of support or another. Volunteers from the community could be in the classrooms and hallways. Also, the school can be used for community meetings such as political campaigning and election polling. There may be continuing education classes run in the evenings and on weekends.
Without much else in the way of community networks and activities, children and parents rely a lot on the school for social nourishment and growth. this could be why it is reported that many youngsters and teens suffered a lot during COVID lockdowns. Most people were cut off from communal experiences and community life. If both parents were absent from the home to earn their livelihoods or very preoccupied earning money from the home, even family life was inadequate. Families with more resources, of course, could manage better. It was the poorest who suffered most.
Without other communal offerings, people hang around shopping malls and parks. They may get to know others who work at or otherwise frequent those places. They may make and meet friends there. However, there is not much in the way program and structure. It's every person for her/himself.
People who either start associations and get something going or pay membership dues and join some existing thing are much better off. Their lives are richer and more fulfilling. They should support people's associations and organize them to build society in a positive way.
Recreational clubs are communal to one degree or another. I belong to several, as I like casual sports for fitness, culture, interest and social activity. They are all communal in that they are groups that share space to do things together using common resources.
For example, my ukulele club meets in a regular club house and plays together following a leading musician. We participants donate a few bucks at each session to support this leader. Members get to the session on his/her own means. We drink and chat together as well. There are no other meetings of this group other than practice/ play times.
My hiking club is another example of a common group experience. It is a couple of degrees more communal than the uke club. We have to register, pay a nominal membership fee each year and follow designated hike leaders who plan each hike. There is a publicly accessible website that bears a calendar, information on each scheduled hike, and reports on past hikes. Our annual fees pay for it and liability insurance, nothing else. There is a car pooling system for transportation to each location of hikes; passengers pay a set amount to the driver to cover fuel each time they are driven to a hike. The trip leader ensures that there are a few photos taken of the location and participants of each hike, which will be posted along with that leader's brief report on the hike. While hiking, we get to know one another. We bring our own lunches, though. There is only one social event each year: the annual barbecue at a favorite lakeside place. Someone lends a barbecue or two and everyone who goes is supposed to bring a little food to share. However, the picnickers bring their own items to barbecue. There is minimal cost to participants and no cost to the club for this event. The province regulates and oversees all organized sports in the province, so this club must follow the provincial regulations and the insurer's stipulations. The city carries information on the club and provides a few gifts to distribute to club members on the day of the annual social.
The most communal of all the recreational and cultural clubs I belong to is the lawn bowling club. This is a traditional English sport that traditionally serves older people. A whole community thus revolves around the local lawn bowling club. Although the provincial government sets the standards, the city provides a subsidy and the property including the equipment shed and clubhouse. Therefore, city staff clean the washrooms inside the clubhouse and manage the flower beds inside compound regularly. However, members do everything else themselves; it is a member-run organization, with members paying an annual fee to cover insurance, maintenance, outdoor equipment and kitchen and game room supplies. Besides the annual membership fee, we each pay a couple of dollars each time we play a game so that we provide additional funds for snacks, the maintenance of the green and seasonal prizes. Members can drop in any time to present themselves for games on bowling game nights three times a week and one bowling morning session once a week. There are competitions against nearby clubs at least twice a bowling season. The club also runs a croquet evening. There is always social time after games, which volunteers from among the membership organize to set up tables, prepare and serve food and clean up. Volunteers take care of grounds and run the games. In fact, this club is a full-fledged nonprofit society with an executive body. There is one official coach to train members and apply the rules. We follow international rules and techniques established ages ago in England. Though the club keeps some spare equipment, members have to acquire their bowling kits each containing four uniquely marked bowls and paraphernalia.
As such a developed tradition, community lawn bowling clubs provide vital opportunities for socializing. Seniors benefit tremendously and enjoy it for the outdoor setting, the company, the mild activity and thrill of the game. Older people can play this despite some physical restrictions and weaknesses as they age. People join as of their late 40s; they typically are people who enjoy sports but who have had some kind of long term injury or ailment, or are just looking for another way to relax outdoors on spare evenings. Many are longtime members who play until they are no longer able at a very advanced age. In fact, club archives with photos are kept and memorial plaques for the most active members are displayed.
The social schedule of the season offers a lot, from the monthly barbecues to the holiday bowling lunches and the season opening and closing banquets. Participants bring their own lunches to the holiday games and salads and such to share at barbecues, when individuals bring their own items to cook on the grill. The opening and closing events are ticketed meals, but surplus club wealth is used to provide gifts beyond the raffles tickets that are offered at each banquet.
The bowling season is only three-and-a-half months long, but the club remains open all year round. There is one card, one darts and one carpet bowling session each week so that members can stay active and engaged with this community. Surplus funds from the summer season provide small snacks. People can buy beverages at each season; a volunteer keeps it stocked up.
The games organizers keep stats of everyone's performance in all the clubs games, from bowling to darts, so that the persons with the highest scores and most wins can be identified and rewarded a little monetarily from time to time.
You can see that the lawn bowling is a full communal experience. It grows a community who do many activities, physical and social, together regularly in a communal space. Lasting friendships form. The membership develops to a more intimate level than other types of recreational clubs. Things are planned to be fair and inclusive.
I am reflecting on the memorial banquet I just attended. Friends, family and extended family came to share memories and catch up. Now I'm thinking how much such an event is a communal experience. First I consider who and what makes up a family. Then I consider how people rally around someone in need.
In the case of this gathering, close friends and extended family were quite a mix and acquainted in a variety of interesting ways. Of course, there was immediate biological relatives and relatives by marriage. In addition, there were several cases of close friends and family established by volunteer child raising. Here is an example. One man had been in a relationship with a drug addict who continued to help to raise her child well after breaking up with the girlfriend. That child is now a young man who attended the honouring of his quasi-uncle with his wife. Another man brought his biological daughter and grandchildren, as well as a teen-age adopted daughter whom he and his late wife met as foster parents when she was an infant; they looked after that girl for a few years and opted to adopt her after the natural mother, another drug addicted, passed away. There was a young child at the dinner; she was there under the informal guardianship of her mother's friends, the mother being absent and unable to take care of her. These are all examples of stretching the perimeters of family to
take care of people where there is no obligation by birth or law; people help because they care.
After the meal and the planned proceedings, informal chat gave rise to a few exchanges about different types of services and individual preferences. One issue is notification of the passing. One person may have a larger or different sort of network than another. How and who to notify? What is the responsibility? I got to thinking that various people well acquainted with the deceased through work or other organized activities and by proximity. If any of them learn of the passing, chances are that someone among them will respond on their own initiative and hold some sort of event to acknowledge it. Take community and leftist social and grassroots political activists, for example. It is normal for fellow activists, perhaps organization leaders or volunteers, to arrange something apart from what the immediate family or close friends do; the activity could be a letter to the family, a public message, a small gathering or a larger service. Work or recreational/ social club mates might react similarly.
Then I got to thinking that there are a lot of situations of people helping people. Disasters are obvious examples. People will open their doors, provide food and supplies, donate money, etc. On the other hand, there is a lot of talk about how the population will respond to severe economic conditions as stagflation strangles economic life and a deep recession unfolds in the USA and Canada. I hear many expressions of fear. The gun promoters and survivalist convey great fear about their neighbours who they surmise will run rampage thieving and killing to stay alive ,so stocking up on guns, ammo and necessities and preparing to defend themselves or perish is recommended. I, though, believe in human kindness and concern. I think that many able people will organize to take care of each other and try to repair the crisis.
Think about it. Who runs shelters, kitchens, mobile street services, and outreach and counseling? Who sets up charities and nonprofit or self-help organizations? Average people step forward to work hard finding resources, making public appeals, researching and sharing information, obtaining qualifications, getting funds, and so forth, and they are often volunteers.
Sorry for the lengthy absence. I do not like this blog format and input process, for one thing. For another, I did not have another theme except peace; I cover peace at my Just Peace Committee page on Facebook and my justpeace.blog (Wordpress) as well as in an internal newsletter for the International League of Peoples Struggles (peoplesstruggles.org), which is the Commission 4 publication called "Peace 4 the People". I also write statements for ILPS Commission 4 and Just Peace Committee, internationally and locally, respectively.
In my activism for peace, we confront imperialism (domination, exploitation and plunder to make astronomical wealth for the few) that is the main source of various forms of violence and oppression. The long term goal is to build an alternative to monopoly capitalist imperialism, which concerned people involved generally call socialism. There are different types of socialism which are mainly state control of land and production and state laws and programs to provide social benefits and protection to the masses. Communist parties have been able to rule and institute vast state socialism through revolution and through electoral campaigns and reforms. We can think of Cuba and Venezuela as examples of one and the other. From the 1930s through the 1970s, US and Europe-based capitalism made compromises to socialize some industry, provide social programs, build infrastructure for working people, and so on. Capitalism's weaknesses, though, could not be avoided: wars, periodic slowdowns, debt and currency crises. The neoliberal approach of the 1980s to 2020 ruined that project by dismantling it and privatizing and deregulating everything. Politically aware intellectuals and working folk are talking about socialism again and decrying "the imperialist system" and all its violence and ills.
Therefore, I have been thinking about socialism. Capitalism is not working out; it is in total crisis, at least US-based monopoly capitalism is. The crisis is economic (stagflation, approaching recession, debt), social (rising suicide, alienation, displacement, bigotry, disruptive and dysfunctional family life), education (rising illiteracy, lack of supports), health (insufficient public care for all, rising mortality and morbidity, mental health and opioids), unemployment or underemployment, housing (quality and affordability with rising homelessness). I don't have to tell you.
If more people continue to get politically active and join protests, they can only be effective when they join forces, share info and materials and ideas, collaborate and make demands for change together. All the movements have to come together as one to confront imperialism. It has to have a grassroots, worker and poor people base.
What alternative and how can we get there? Through collective action and discussion, forms of organization come into being: cooperative enterprises, committees, shelters and workspaces, bartering and sharing arrangements, social and recreational clubs, nonprofit enterprises and charities, popular non-corporate media, art projects, education and skills training programs, worker-owned factories and so on. Oh, you have heard of at least some of these? Yes! They already exist. You probably realise that they are each a product of local struggle. You probably know that they could not be accomplished by a single person, but rather had to be by a collective. When victorious, such endeavours result in people/ worker/ community-run, autonomous collectives that serve the people somehow. The struggle may have required and won state funding and legislation, so that many such collectives are state supported. It is this collective, popular action and organization that interests me, for I see it as the foundation for a whole new society that cares about and operates for and by the people. I envision a governance of representatives from among the communities and collectives that does not own and control projects and enterprises and programs but is designed to facilitate and support them.
The socialism built in the Soviet Union and elsewhere has largely been systems of state ownership, control and direction of production and community life. I am not knocking what has been achieved. Clearly, the people fought and worked hard for it and benefited from it for a few decades. It is the top-heavy, top-down system that is vulnerable to corruption. Economic critics of capitalism have also reviewed former socialist states and come to accept that, to date, they adopted a capitalist production and distribution model, though wealth and production was not in private hands. State-owned enterprises used the monetary, price and wage system and accumulated wealth, which was to be redistributed into investments in infrastructure, homes, services, culture, and factories aimed at continuous expansion. In other words, they borrowed the capitalist model and changed some of the language. True, there were local committees and trade union and party locals from among whom representatives to the massive regional and state assemblies were regularly and properly elected. However, democracy was at risk and the state vulnerable to corruption as long as the economy and management were centralized. Too much power in too few hands.
Today, new models of socialism are being discussed. Many prize communal life and governance. I want to think about this approach.
The next steps will be to look at examples of communal life around me. You probably have not held communism high, but that ideal is alive and well around the world as people continue to form and run various types of collectives. You likely belong to one or support one. I will discuss how much each case is "communal".
Communal living is my new thread to be discussed in the next few weeks, if not months. Stay tuned.
I have been thinking about the perspective of working at home and spending more time at home. For some three centuries, Westerners have gotten used to working mostly outside the home. The distinction between private and public has widened, as a consequence. Even farming has been industrialized and monopolized, so that farm work is often outside of one's home and for someone else. Work has been for somebody else or at least for a business rather than a central activity of the home from an employee or business person's perspective.
This transformation has coincided with the devolution of communities. Aware of the loss of benefits associated with community, some citizens have been making efforts to restore communities or build new ones. This helps local economies, culture, relations and health. 
Of course, the home has remained central for the caregivers, the spouses or hired personnel making the home life and nurturing children, disabled and elders. The roles of caregivers has thus been perceived as in the background of mainstream life and not central to the economy. This, too, has required some reality checking and consciousness-raising.
It is interesting to observe how people recently persuaded or forced to stay at home have received and interpreted the change. Largely, it seems to be have been difficult for many, so difficult their health is in jeopardy. It is a psychologically frustrating and confounding adjustment. Identities have been based so much on the idea of an employee or business person living mostly externally to their home life that people are uncomfortable. 
In tandem with the external work life has been the notion of "going out," socializing and seeking entertainment outside the home. This is hard for the petit-bourgeois and bourgeois mindset who have been used to real or imagined petit-bourgeois or bourgeois budgets. (Actually, acting out the delusion had weighed down many such folks down with huge debt loads before the pandemic.) Either because venues are boarded up or incomes inadequate, this aspect of the lifestyle, with exercise at fitness centers and seminars at institutions and performances at auditoriums, is missed by many of those socio-economic strata. Their identity is apparently bound to such activities. 
For myself, a semi-introverted personality with a set of circumstances causing me lots of time at home while studying, working part-time or being unemployed, remaining at home for much of the time is normal. I have not had much of a budget or desire to do the big shows or fancy programs regularly. Except for all the meetings on the internet by use of the computer, this situation has not been so tough or alienating. 
I wonder how many people feel that way. It seems some may have come to prefer work at home: it must be a financial relief as long as income generating work can be done at home, since the commute adds costs and time. 
My personal experience of the past 10 years.
10 years ago, I was taking a 3-month break from living in Korea. I stayed in Victoria, BC, making visits to Vancouver and one to Calgary from there. It was a very snowy winter in BC. 
I had just been hired to start working as an Assistant Professor in the English foreign language section of the English department, which was housed in  European Languages division at a private, foreign languages university in South Korea. This was reason to celebrate. I was being elevated from "hagwon" life of teaching English to kids afternoons and evenings in after-school programs at little institutes. It was a change from the hard and lowly life of a teacher teaching outside the public school system to the privileged and comfortable life of academia. 
My career grew during this period. My teaching skills and knowledge of language and language learning expanded. I went to several conferences in Asia and one in Europe. I presented lectures and published articles. I had roles in our educators' association. The subjects and students varied, so that work stayed interesting. 
Outside work, I continued to enjoy new experiences and personal growth. For example, I toured South Korea. I participated in local hiking clubs. I went to cultural events. I travelled around the region. I broadened my horizons by visiting more of the US and made my first trip to Central America. I also made my first trip to Italy.
Activism became more and more a part of my life. Initiating a teachers' support network, I added contacts and met others in the labour movement. I helped to get Koreans involved in the International League of Peoples' Struggles (ILPS). We had regular meetings and discussions in Seoul. I worked on the international coordinating committee of the ILPS and went to some of its conferences. 
It was in this period that my writing took off. I began some short stories reflecting on my teaching experience and wrote my first novel, which used the teaching abroad experience to craft a romantic story. In addition, I wrote poems on and off. A year or two after starting work at the university, moreover, I began to do professional editing of translated texts. 
I finished my middle age phase and moved into my senior phase as I left South Korea to resume a life in Canada. Life back in Canada seemed easier by then. After a year of resettlement, I had  acquired regular work in education and begun some self-employment. Fortunately, I found good housing that makes me happy, quite a contrast from the residence I was inhabiting before I went to Korea! I was prepared to face retirement and life as an elder. My professional writing was expanding, too. I caught up with friends, family and associates, enjoying a return to some activities while trying some new ones. 
I have gradually learned to improve my health management. I am managing the business of aging both physically and mentally. I adopted my own approach to positive thinking. I learned exercise routines more suitable to my age and condition, especially methods to slow down the development arthritis. My diet has been honed to address aging, weight and my particular metabolism and activity level.
I created this website exactly 10 years ago. I took to blogging by the end of 2013. I have more blog followers who take the trouble and time to offer comments quite frequently. Before the blog, the views of my site had stagnated at around 1500; afterward, they increased sharply. It has received 100s of 1000s of views. Whereas I used to get hardly any comments, comments skyrocketed last year and kept coming through this year even though I was prevented from posting blogs during most of this year. My readers' comments amount to over 1500 as of this month. I don't know why
I am very pleased to find one or two new comments nearly every morning. Aside from the odd spam and sales pitch, your comments are positive and encouraging. You compliment me on my writing as well as the content. I do try to share things that are useful and provide commentary that is helpful.
Just passed another birthday and the calendar year is closing. Time to review the year.
I always review my goals and see what I accomplished or changed. I refer to both short (1-year and 5-year) and long term (10 years).
What's more, I consider a few categories of life: finances, career, social, travel, health, activism.
FINANCES
I've had a steady income from self-employment and employment, working generally part-time, with a few relatively high-income months. My savings have remained frozen this year. However, they are set to mature in January, as planned, when I will have to decide what to do with the cash. Following through with a second goal, I have applied for my Canada Pension benefits, picking mid-2020 as the time to start receiving them. It is financially advantageous for me to claim them a little early. Tbirdly, I am able to reduce my taxes by virtue of my growing status as a self-employed citizen. As well, I am taking advantage of other senior programs. For example, I qualify for a housing subsidy and a discount applied to prescribed pharmaceuticals.
Furthermore,living in this province offers some financial advantages. Premiums for the provincial medical plan were halved this year. Members of this plan will not have to pay any premiums as of 2020. Their are transit and other concessions coming in the near future.
Last year I wrote about a dispute with the tax department, which was billing me for 10s of thousands of dollars. A series of my objections were ignored, but I was finally vindicated in the spring of this year. All taxes, fees, interest and penalties were canceled. I even received a small refund in the end.
I am developing a longer-term financial strategy with information coming available over time. Rather than purchasing a home by full retirement, which would have had to have been in a small rural community, it appears that my savings would best be used as partial income. I am contemplating having an annuity fund set up. It would dispense a small, pre-set amount each month for twenty years plus.
WORK
Two-thirds my income comes from self-employment. This represents an achievement of one of my five-year goals. I wanted the independence and control over my paid work. The arrangement also saves taxes because there are more deductions allowed as business expenses which employees of other companies cannot claim. It also has to do with the type of work I do. I am doing things I prefer over other types of tasks related to education and writing. I am tutoring children, teens and adults in a range of areas, from straight-forward beginner to intermediate English Language Learning, to study skills and preparation for college entry and entry tests. I teach writing extensively as well as vocabulary, reading and speaking. Occasionally, a student wants tutelage in French.
One of the things I do is provide evaluations of official English speaking tests that measure fluency and competency for work and study in English language environments. My rate of compensation for the testing climbed two levels this year.
I pretty much finished a book project, though I may have to do a little further editing in early 2020. I am thinking of a new writing project.
More importantly, my satisfaction has risen. I have a better handle on my schedule and geographical areas of work, as well on the types of work I do.
TRAVEL
I was surprised to find myself going on two voyages that were on my list of travel dreams. They were both tied to attendance at huge and important political gatherings. 
I thus fulfilled several wishes just in one three-week trip. After attending the activists' conference in late spring, which was one goal. I continued on my way by returning to Italy to explore it further (2nd goal), after which I returned to visit France (3rd goal), during which time I revisited an important place where I resided in France in my youth (4th goal). Everything came together--my schedule, the budget, the timing with the conference, the availability of lodgings and regional transportation in Europe. One decades-long dream came true! Despite the extreme heat, I reveled in the beauty of Torino and enjoyed the comforts of swapped, free-of-charge private housing. In France, I explored Lyon, which I had not seen before. I finally returned to a place that opened up my life and transformed me while I was in my early 20s. It restored and concretized my memories.I could see what had become of the place, which, I have to say, was a bit of disappointment as it has turned into a big tourist site. All the same, I felt the trip validated the experience and the life decisions I took as a result. Though little made sense to me back then, looking back it all comes together. I could see clearly how my life adds up today.
In September, I decided to embark upon the second trip after having received an invitation through a local organization in late July. I took this trip just before Halloween and it lasted just one week. It was a fantastic opportunity and colleagues needed someone to go represent them and use the event for networking and research. I had not been to Cuba in 17 years, when I participated in a social and political, group tour with folks from Vancouver. We sang, met trade unionists and got political lessons as we rolled from town to town, meeting to meeting in our coach bus. This time, I attended a huge gathering in the main conference center in Havana in the year of the 500th anniversary of Havana and the 60th anniversary of the Cuban revolution. There were many of my comrades from Vancouver and across Canada, as well as my group's associates in Central America and elsewhere. We tackled the attacks on progress in Latin America and the Caribbean and pledged solidarity on many fronts, from the uprisings against neo-liberal policies in Chile to the demands for a decent standard of life and democracy in Haiti, from defense of regional revolutions to support for the movement for the independence of Puerto Rico. Many important politicians, popular leaders, and intellectuals were in attendance, including current and former state leaders! It was greater than what I had dreamed as a return to Cuba.
ACTIVISM
My biggest rewards of the travel in 2019 were the advances in my roles as an activist.The conference attached to the first voyage was an international assembly of a league of anti-imperialists groups to which I belong. I hadn't been to such a gathering in about 10 years, so it was a gain just to attend this last one. At that event, I found a way to boost my volunteer work in political causes as I had hoped. It had been one of my 5-year goals to increase my participation and responsibilities as an activist. Check! 
I wound up leading a commission workshop on peace when I stepped in to fill a vacant seat. It was successful, so we were able to keep our peace commission marching on by making plans and finding volunteers to coordinate it. I found myself in the leading coordinating role. It was owing to that position that I represented our league at the international anti-imperialist, Latin America solidarity conference in Cuba. After attending that event, I have since been invited to join a peace building collaboration effort in Latin America. I have also been able to revitalize my home organization, the small "Just Peace Committee" and contribute nationally to the peace movement in Canada. I have started up a newsletter and built a website for the league's peace commission (https://peace450.wixsite.com/website). Through collaboration, we have coordinated three actions: to remember the Hiroshima and Nagasaki bombings, to take to the streets on UN International Peace Day and to oppose the most recent NATO Summit.
HEALTH
On course, steady as she goes. I generally keep up my regular, moderate exercise. I do an all-round set of movements to manage the effects of aging. They include quad squats or presses to keep the knee joints strong, shoulder and back presses to keep the core, back and shoulder joints strong, actions to sharpen my balance, stretches for general flexibility, some abdominal movements for core strength and a little low-impact movements for cardio and weight control such as rowing machine or glider. I go to the gym once or twice a week or do some exercises at home. 
Though I have not had a specific weight loss plan, I lost about 10 pounds last spring and a couple in recent weeks. The loss occurred during my busiest phases, so I guess being busy, especially since I have relied on catching buses.
I eat well. I have honed my diet down to a food list that seems to work well for me. The items on this list address aspects of nutrition suitable for my age. They are mostly organically grown. I take vitamin and mineral supplements daily. I eat kale with a variety of other vegetables to make it interesting most days. For minerals, It is high in vitamin Bs. I eat whole grain bread and cereal for protein and B vitamins all the time. For minerals, especially electrolytes, I eat a little a couple of teaspons of avocado, 6 oz. of coconut water, a stick or two of celery, and one small or 1/2 large banana nearly every day. I eat pears for magnesium when they are available at a reasonable price. I eat one egg nearly every day for Vitamin E, sulphur and protein.  My diet is almost dairy free except for a little cheese; I use unsweetened nut milk. Still, my diet is high in protein; I rely more on fish and vegetables than red meat and poultry. I occasionally get a little beef or other red meat, tryng to find it from locally and small farm grown, organically grain or grass fed sources. Same for chicken, though I have chicken very occasionally. Instead, I look for wild seafood or some legumes.
As a consequence of this high quality diet, I do not yearn to go to restaurants much. I experience an aversion to fast food and mass produced, processed food.
Overall, the budding arthritis, which was detected two years ago, has been kept at bay. I hope to slow down or, better, stop its development.
I may get a flu occasionally, but symptoms are relatively minimal. I have no other health complaints.
SOCIAL LIFE
I just accept I am a loner. I am generally content. I have not tried reaching out to go dating again. I try to keep up friendships and the bond with my brothers and their families. I have made more friends through work and activism.
NEW EXPERIENCES
I continue to enjoy new things. It is important to learn and do new things for the sake of keeping life interesting as well as keeping the brain sharp. It is also good for personal development. One should not let one's life stagnate.
-I read at least 20 books.
-I completed a non-fiction manuscript about the nuclear industry.
-I used a new web-building program to build a website for the second time in my life.
-I got through two probational periods as an English speaking test examiner.
-I did my tax return online for the first time.
-I explored two cities I had never explored before.
-I attained a leadership role in the peace movement.
-I have been tutoring English literature, which is a joy.
-I learned some more physical exercises.
-I learned a couple more songs recently.
-I watched some TV series by means of DVDs, series I had seen little of before.
-I got back to blogging.
-I participated in a vacation housing swap for the first time ever.
-I saw a live performance of "The Taming of the Shrew".
-I got several new students.
-I attended an international solidarity conference in Cuba.
So glad I am able to post daily here. My posts were blocked for several months, probably because of some sort of hacking/ cyber-intrusion.
Topic today: art and mental health
I recently visited my former university campus to run an errand there. The visit prompted some reminiscing. One memory that comes up from time to time is my decision not to become an English major. Considering that creative writing and literature feeds mostly off emotions, I was a bit afraid of going in that direction when I was around 20. Coming from a family with some history of mental illness and guarding against becoming a victim of mental illness myself, I wanted to protect myself. Also, the stereotype of the writer or professor in deep, agonizing pain and becoming depressed or alcoholic accompanied the vision of a career in English literature. I did not want to get caught in the vortex.
It is a fact that I later encountered alcoholics and mentally unbalanced instructors and graduate students of the English department at that university in the flesh. I had returned for further study but had opted for social sciences. Employed in our TA and sessional instructor's union addressing cases of employee disputes with the university administration during that period as a grad student, I was struck by the reality that a number of my cases concerned several teaching staff members of the English department who had gotten into trouble. The context of their conflicts included mental health issues, such as depression and alcoholism. In fact, a co-worker organizing for this union who was a student and TA in the English department turned out to be alcoholic. The signs of his malady became obvious after sharing an office with him for a few months.
I still keep asking myself what the relationship is between the immersion in English literary studies, often combined with a budding career in creative writing, and the condition of an addiction or other mental health disorder. That the work in this field does involve exploring emotions and, usually, problems of humanity, often delving into tragic moments of history or family life. Many literature students and authors adopt the method of introspection. Perhaps that approach and the condition of digging through the effects and implications of tragedy puts one at risk of falling into melancholy.
Which comes first? Does the condition of mental illness including addiction tend to draw arts and humanities students into literature? Does the immersion in literature cause melancholy? Is it the institutional process and culture that makes people sick? 
Perhaps some people think that the authentic artist must be sad in the first place. It would seem to be considered a prerequisite. Many great artists have suffered acute tragic episodes in their own life--experiencing war, disappointment in love, disability, faulty parenting, crime, gender differentiation and such. Some are very well known as big drinkers, from Lowry to Hemingway, Margaret Lawrence to D. H. Laurence. Wolf was mentally ill. Some, but not all. The majority, I wonder? Has anyone done a survey of authors along this vein? 
Summer--a period of growth. Growth is strong here, this summer. Following a densely flowering spring due to a balance of rain and warm sunny periods, we are into the idyllic weather typical of this region in late July. Life is surging! I feel terrific!
Summer is the half-way point of the year, a time to take stock. I therefore ask two questions to help me assess my growth so far this year: "What new experiences have I had?" and "How well am I living up to my stated goals for the year?"
First, what's new? Here is my tally.
-I saw a live production of the comedy, "Taming of the Shrew" for the first time. It was also my first time attending a matinee performance at the local Shakespeare-in-the-park program.
-I attended the 6th International Assembly of the ILPS (International League of People's Struggles), which was the biggest such assembly ever. Also, it expanded its sectors, adding 3 more causes.
-I have taken on a new international role in the cause for peace.
-I did a vacation lodgings swap for the first time in my life, and, overall, it was successful. I certainly enjoyed my traded lodgings abroad!
-I visited two cities in Europe which I'd never explored before.
-I learned some choral songs.
-I started work at a new teaching location and I have had new private students.
-I am working on a new book project, which may generate income later.
-I have read several books this year, both fiction and non-fiction.
Now, how well am I achieving my goals, short and longer term?
-Regarding my plans for this year, all of the above are germane. Also, I am on track with respect to work especially self-employment, and finances. My income is better than expected, actually, this year. Additionally, my goals for personal health are being pursued, as I am keeping up my fitness. I am even losing weight more gradually. Socially, I have not found a steady partner and am not even dating, but I am content, anyway, and at peace with myself. I am maintaining friendships and family relations. Politically, I am active and taking on more responsibilities as planned, especially with my pledge to work for peace.
-With respect to my 5-year vision, I am generally on track on most points: health, housing, finances, relationships, work, retirement planning and activism. About finances, I continue to generate income through self-employment as well as some employment. Work is steady. Having cashed in some savings packages at the end of last year, I have re-organized and re-invested those funds. I could be saving more funds, but I opted to go ahead to achieve certain travel goals instead, since the opportunity had arisen. I plan to sell the small investment property soon, and put cash from it into my savings accounts, which is one task on the 5-year agenda. Though I am not receiving pension benefits yet, I am starting to benefit from seniors' programs. Another aspect is to expand my writing experience, which I am doing by taking on the non-fiction book project. The project is going well. I took an old manuscript, checked it over and organized the sections and written many inserts. I don't have prospects for new writing projects, but I am sure something will pop up. About housing, particularly for beginning my retirement, I have secured a place for now with a subsidy and am keeping an eye out for an even better situation. As for activism, I have been seeking new experiences and different roles, which are being realized. I am continuing to do political writing and am managing two blogs and a group page. About travel, I have ticked off a couple of items on my to-do list earlier than expected after returning to France and Italy this summer. I completed the goal of vacationing in Mexico for the first time just before 2019 launched.
I am starting a thread on the theme of renewal. Renaming is one way I am finally able to defeat the raining bots that have blocked my postings.
Regardless of this problem posting entries, I am moving on.
I have just returned from vacation. A holiday is an escape from regular life to renew one's energy and perspective. I have indeed returned renewed.
I began a journey to an international meeting where I reconnected with long time friends and made new friends. What brings us together is our shared concern from the biggest problem of the world. We try to get informed ourselves, share information, build our activists' network and engage in common actions to put forward different views and work towards change. This reunion, which takes place very few years, was larger and longer than ever. The quality of participation and presentation is rising. We had important and deep discussions and pledged more joint actions. Newcomers observed and joined us. In sum, this event was a renewal of relationships and thinking. I was exhausted, especially because we did it on a small budget without luxuries. We slept on bunkbeds in dormitories and ate simple, cheap food.
Then I traveled. It is a good way to escape work, worries and routine. Having arranged a vacation housing swap, I stayed in a luxurious apartment for a week while those residents stayed in my not-so-luxurious place. There, it was very comfortable and restful, despite soaring temperatures. Also, the city, being new to me, was an interesting and beautiful place to explore.
After a week in that place, I continued my journey. In the next segment, I retraced a path I had taken as a back-packing youth. This part of the trip served as a good reflection on how my life has unfolded since that first voyage, and it was review of beautiful places that had inspired my young mind. It was good to know that one could set out on an adventure late in life and be just as enthused, inspired and fascinated. Commercialization and tourism have spoiled some places, in my opinion, but it was good to see places that were very meaning to me as well as the history of Europe.
I came home feeling stronger and more confident. I felt accomplished by having successfully taken that journey and carried out all my plans in each stage of it.
Time to sum up the year, I guess. I did review my short- and long-term goals in the fall, finding myself mostly on track and arriving at the decisions I had wanted to make by then. I have made some adjustments to the goals regarding financial planning.
I am feeling good—refreshed after a break and very positive from assessing my present situation.
Christmas Holiday
First, let me talk about my holiday. I took the plunge, splurged and did a Mayan Riviera resort stay. My first time in Mexico and on an all-inclusive holiday package at a big resort. It was wonderful and worth it, even though I traveled solo. Just shy of a week away, it was a nice break that did the trick however short. I swam every day, lazed around by the beach or snoozed in my room, enjoyed the food and hospitality. I watched the live shows a couple of evenings and worked out at the spa gym a couple of times.
It felt great to be able to have a holiday at Christmas and to experience Christmas in a different way.
Probably the most worthwhile thing I did on this holiday was to take a day-long, guided excursion inland to see Mayan ruins. I had always wanted to visit a Mayan pyramid. There I was under the sun on the day of Winter Solstice at the pyramid of Chichen Ixta witnessing a Mayan procession and soaking in the history, art and spirituality of the place.
En route, we stopped to marvel at some high-quality, local handicrafts. We also paused to view a Spanish church made from stones of the Mayan structures. I witnessed Mayan youths performing indigenous dances, games, songs and prayers. We also took time out to explore and swim in an underground lake ("cenote"). What's more, I had the chance to chat with some travel companions and listen to their extraordinary stories along the way. In addition, I relished the unanticipated sights of wildlife around the resort—birds of prey, other birds such as magpies and pelicans, small mammals including coatis ("tercones") and a raccoon, deer, lizards and butterflies.
It was super special to be there at the time of Winter Solstice. I am sure I felt the power and beauty of the occasion. At least, the view from the quiet beach under the clear sky lit by the light of the full moon over the Caribbean Sea was perfection itself. It felt exhilarating to be there. This is the moment when I felt my spirits lift and the tensions and worries built up over the past months dissipate. The exposure to the moonlight and the good waters of the region acted like a balm. I was re-energized. A great way to conclude a year.
Decisions this year.
This past fall, I had pledged to myself to make some decisions regarding financing, livelihood, living arrangements, retirement and more. Here are some reflections on most of these decisions.
-I concluded that it is best to continue renting at least for about three more years because of the housing benefits for seniors that I can now access. That means I have opted not to try to buy a place, for now. Therefore, I am making improvements to my apartment with enhanced décor and proper furniture to replace makeshift set-ups. I am reorganizing things and making use of storage space that has just come available. That is, I am settling in here for a long haul.
-As for my livelihood, I have decided to rely on teaching employment no longer. I am instead making more progress with self-employment: writing projects, private tutoring, official testing. More work seems to be coming to me. For instance, a private institute contacted me today to set up an interview. If we go through with the job, I'll have two or three shifts (12-16 hours a week) tutoring children. Also, a prospective student contacted me directly, circumventing the tutoring agency, to schedule French lessons four hours a week. To add, I recently had a couple of short projects reviewing English translations. Finally, I am maintaining a role as an official speaking examiner for some hours of testing most weeks. The hourly rate for most of this work is fairly high. I have been getting some unemployment benefits due to my previous months of employment with the academic English programs. Perhaps I'll have enough income from other sources to do without it in January. I am feeling relieved to have more self-employment. It was my plan to depend more on self-employment after returning from teaching in Korea two years ago, it is apparently panning out.
-Finances. What to do with the retirement savings so far accumulated? My nest egg was release from some investment programs this past fall. I was avoiding using that money for living and luxury/ leisure expenses until I decided about buying a home. Now that I have decided not to buy a home, I have decided to make some of it available for travel every year and for living comforts such as the furniture. I think I may end up arranging something like an annuity so that the savings can go towards what they were intended, which is supporting my retirement life. I am so relieved to have resolved this question, for I was beginning to feel very constrained practicing frugality and continuing to endure makeshift arrangements such as the sleeping mat I've used for a year and a half, the shabby lighting here, and the sagging work table that's been in the dining alcove. My place is more comfortable and pleasant now.
Summing up the year.
My life progressed. It generally moved in a positive direction.
I received blows, of course. The worst was being thrown out summarily in the middle of a new sessional instructor contract. I blame it on the unreasonable fear and negative imagination of people in charge at least of the program I was working in, as well as poor institutional communication and management. That was hard to live through.
There was also the ongoing strain of unfair and erroneous federal tax assessments. The assessments have been demanding a large payment, including interest and penalties. It is difficult fighting this anonymous bureaucracy in the series of blunders and misunderstandings and oversights about my financial situation. Gradually, it is getting sorted out, after a ministerial inquiry, meetings with a bank financial advisor, and numerous letters. The strain is easing.
Despite these problems, I have been able to keep income flowing in. Self-employment activities are increasing, without me making huge efforts to solicit the business. Though recent experience has turned off the desire to rely mostly on employment in teaching, I still have teaching prospects. I am meeting a children's after-school ESL institute later this week. I am also meeting a new private student this week. Finally, there is a new writing project. If I complete a book that another ghost writer started, and books are sold, I am to receive a percentage of the sales revenue. It is an important book connected to my just peace activism as it is based on research and experiences of an activist seeking reforms to nuclear power plants and nuclear accident evacuation procedures in the US.
Furthermore, I am settling into this rental apartment, having made a decision about planning my retirement and using my retirement funds. This is a relief, as I now feel grounded in a place and position in life. Though I am not yet declaring myself retired and applying for senior's pension benefits, I am enjoying some other kinds of senior's benefits, which offer some relief.
Finally, I ended the year with a warming, distracting and relaxing vacation outside the country, getting away from it all, and also fit in some celebrating with co-workers and relatives. There was a fine Christmas party paid by the English testing company in late December, and I hosted a nice dinner party for family yesterday. If I want, I can attend a friend's house party to welcome in 2019 tonight.
Things are looking and feeling good for me just as 2019 is launched.
I'm not a big consumer. Never bought into the buying mentality. Have not contributed much to the economy in that regard. I have done a lot of work all my life, and a lot of it study or communications or research and activism for no pay.
It nevertheless seems that material objects come my way and adhere to my little universe just as much as to anyone else's. I am blessed that I have received many useful things as gifts and that I have come across useful second had items one way or another.
One way has been through the generations before me in my clan. That is how I have come to possess a number of things that are decades old, even older than I. I have things from my grandparents and my father's second wife (whose stuff got confused with those of my mother's as her memory fade).
So I have many companions in many forms hanging around my household, like the electric mixer that my Grandma bought in 60's. She used it a lot and so I have I and it still runs like a charm. I have her waffle iron and pressure cooker, which I have used only a few times. Her iron skillet, on the other hand, is an indispensable tool in my daily life. Then there are the old odd pieces of crockery, partial tea and dinner sets, and many dessert bowls and plates, fruit/ salad bowls and vases, many with lovely designs. There are souvenirs of my grandparents' hometowns, which are special little treasure that I am fond of and display as decorations.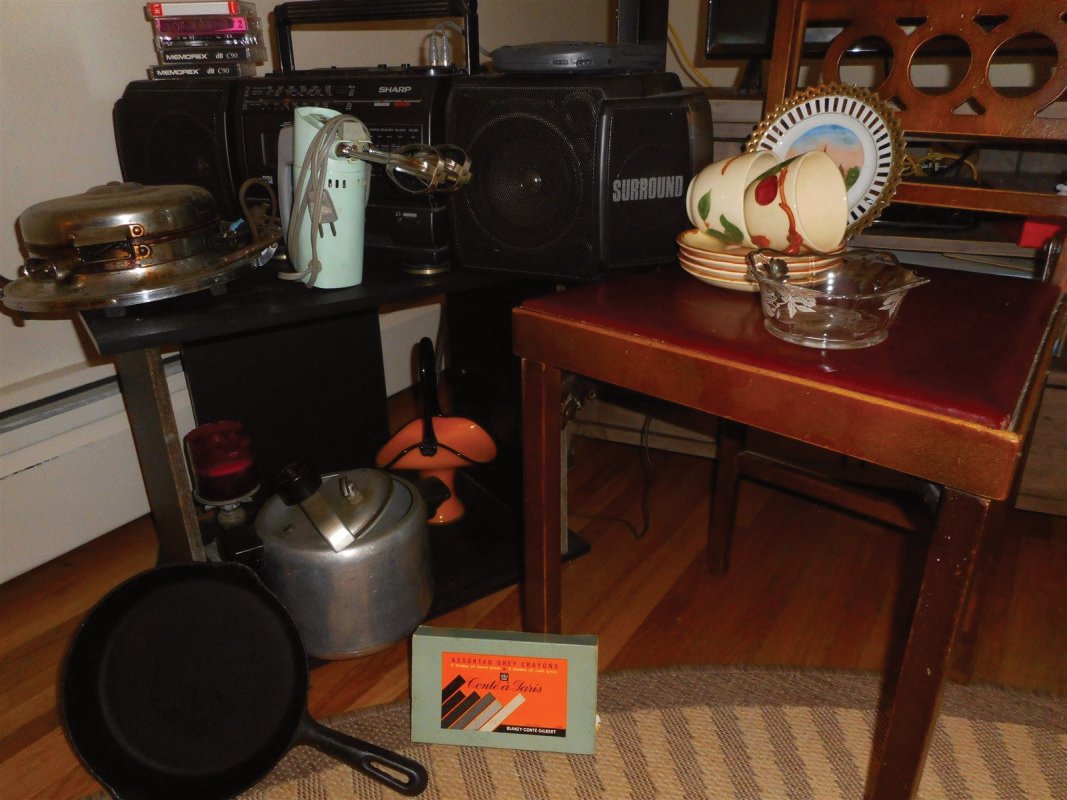 I still have Grandma's Kenmore sewing machine. It's been a long while since I have plugged it in and taken it for a spin, but it came in very handy for mending things, making simple items such as cushion covers and curtains, and stitching together costumes.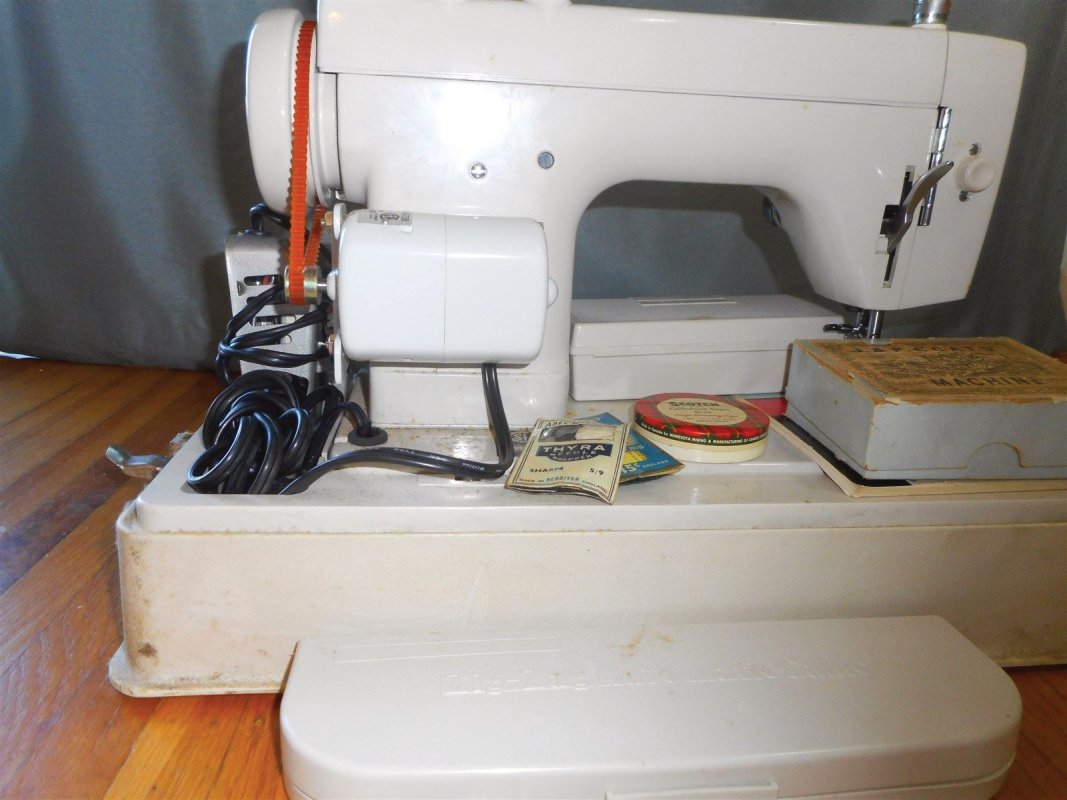 Yes, I have rejected the gender identity as a consumer of kitchen appliances and the latest gadgets; I have never even owned a blender never mind a microwave oven. TV's were foisted on me until the first time I bought one for myself when away abroad and the second time when I returned from abroad last year. I only have a mini vacuum-cleaner, rather than a full-sized one.
I have kept a small coffee maker that a sister-in-law bought me. I like having a toaster. I have refrained from buying an electric kettle for this apartment, though it's high time I obtained one, considering the poor shape that the pot I use for boiling water several times a day is in.
I enjoy my aunt's paintings and prints that my grandmothers kept hung on their living room walls.
When I have invested in an object, I hang on to it. Moving to and from continents in recent years made me realize how foolish holding on to as much as I have is. It is just stuff. Usually, the thing-- folders full of some passionately researched topic in the old days, some box of trinkets, stationery or art supplies, sewing aides, grooming aids or silly ornaments--sits in bags and boxes in the closet for years until it fades and gets musty and the container is falling apart and I finally give it up.
I have clothing and accessories that is up to 5 decades old--stuff that was my mother's or that people gave her--a sundress, lace knit pullover, tank top, coat. I wear them at least a few times every year and get compliments. Besides those articles, I buy second-hand clothing; already purchased as "vintage" by me, I extend the lives of many such pieces by more decades. I have some such stuff I bought in the 90s; still get compliments about them, too. 
I have a "boom box" which I have never let boom but enjoyed as a music and radio player for many years. Still using it, with a portable CD player hooked up to it. Still have cassettes from the eighties, CDs from the 90s.
There will soon come a time when I'll have to unload more of this stuff. I gradually have since I put much of it in storage to prepare for life in Korea over a decade ago, and when I sorted through it after I emptied the storage container. There are still shelves and boxes full of it. 
This website has not been very reliable lately; I have not been able to post some days because of interruptions and malfunctions on this site and it was slow to open up the blog today. Sorry about that.
Today I have the luxury of an unexpected day off and I am glad for I really need it. I have been busy with political and social activities and work.
At last, here we are. Nine days until my next birthday--time to put in my reflections over the past year, review and reset goals and look forward to more precious time on this Earth.
I consider myself by and large fortunate overall and in this particular period of my life, despite setbacks. I was dismissed from a contract working for a local international college as a Sessional Instructor, for example, yet it seems like it was for the best because self-employment is coming to me. I am enjoying working part-time for good hourly and piece rates. I am also enjoying some state support for loss of employment and to subsidize my housing rent.
Though I feel a bit pooped out today, my health has generally been good and my mind has generally held to its optimistic vision.
Attempts at dating through online services have not worked out and I am still flying solo, but I like my 1-bedroom apartment and my work, overall. The entertainment budget might be small but I get out and about somehow or other--potluck dinners, singing, café meet-ups, a little shopping, gym and so on. I see neighbours and shop workers enough in the area enough to stop and chat. The bros keep in touch.
I am still growing, having new experiences. I see prospects to look forward to on the horizon.
Let's take a look at some of my goals set in recent years and compare with actual outcomes and turns of events.
10-year goals:
-own a home. Well, I still have land as an investment. However, it looks as though buying a home probably does not make sense under the circumstances. Prices are still high here, for one thing, For another, senior's benefits including housing assistance, there is no longer an incentive to buy. To much work and worry, and it might be difficult to keep up maintenance and costs beyond a mortgage. Not worth it considering my funds, neither for living or letting.
-financial development. I am working and I continue to look for other sources of income. Learning about benefits and breaks for seniors and the self-employed.
-health on track. Have resolved some irritating issues. Making adjustments to the conditions of the aging body.
-self-employment: making progress. Right now earning a good portion of my monthly income through self-employment as writer, editor, teacher and examiner, pretty much as I had planned. 
-writing. It is happening. Not doing any creative writing, but able to bring in a little income through professional writing and editing.
-professional development: I now have a certificate for giving and rating international speaking tests. I am using my 2016 training in editing. I have had some training in working with children.
-social. Keeping up friends, making new ones. Keeping up with family. Went to a reunion and cousins are in touch now. Political friendships deepening. No romance for me, though. Finally, I can say that I am teaching (tutoring) a broader range of subjects, including writing and literature, French and ESL.
-travel. Prospects were looking dim for a bit, but new opportunities are opening up. I decided to take a beach vacation this winter in order to counter the blues and chose a place in Mexico. I have the chance to fulfill a life-long dream of visiting Mayan ruins soon! Also, vacation home-swapping opportunities are on the horizon, with invitations to two locations in Mediterranean Europe. I want to go to a political conference in East Asia in June, then travel for pleasure. I'll be able to catch up with activist friends in Asia and fulfill a long-held dream of returning to the Mediterranean coast where I stayed in my youth, and exploring regions in Italy, France and Spain more for a couple of weeks. I'll be able to stay for free since people will be using my place here during my absence.
-political activism. I keep trucking. Struck up the "Just Peace Committee". Though participation is minimal, I have been able to carry out a few small events with help from participants, and have written some materials.
5-year goals
-Home. AS stated, buying a home is not on the table at this time.
-professional development, self-employment going forward.
-Financially, things are positive, though the threat of a big tax debt has been looming. I have been fighting to cancel that debt and there have been some favourable developments in that struggle. Furthermore, I am now enjoying the provincial housing subsidy. I am considering taking one of my senior's pensions within a few months while I develop plans for financial security beyond 65. I am pretty much decided to carry on self-employment through my sixties. I take advantage of senior's discounts here and there.
-writing. I am a paid writer. Producing materials for income and political commentary. No creative stuff, though this blog is alive. The national writers grant system having changed, I am no longer qualified to apply, though I will check into it again later.
-health. I had personal training twice a week for twelve weeks, which really helped, and I still go to the gym, though a bit irregularly. There are exercises I can do at home. I resumed bike-riding around the city and went as far East as Coquitlam Centre and as far West as Commercial Drive in East Vancouver last summer. 
-social. Some deepening friendships, especially with activists and a few neighbours. No dating. Good rapport with relatives and have been enjoying very pleasant get-togethers with bros and others. 
-travel. I hadn't planned on much travel for this period, but I will take the short beach resort holiday around Christmas. I am planning a trip for political work over a few days plus a couple of weeks of travel for pleasure next summer. This means seeing some travel wishes come true, which I had not been expecting!
1-year plan
-As some invested money was freed up last week, I had a decision to make about its use. I am neither buying home/ property or a car. I will bundle it up in short-term saving plan and review the situation in about two years from now. I am not selling the little parcel of land just yet, as selling prices are lowish.
-retirement. I am thinking of taking the CPP (employment pension) benefit in 2019. I am not working enough to be able to increase contributions great enough to cause a substantial increase in the benefit rate by 65, so I may as well save the contributions and take the benefit early to help me as of next year. I will no longer seek fulltime teaching, but I'll remain open to part-time teaching in addition to some work at home. Working even part-time at home should qualify me for some tax deductions.
-writing. Being a member of the editing and writers association was not so beneficial, after all, so I dropped out. Am getting paid gigs for writing, editing and consulting, regardless. I determined it was not worthwhile to continue professional training in editing, so I have not taken any more editing courses. As stated above, federal writers' grants are no longer accessible.
-employment. I get teaching gigs here and there, but I don't think I will rely on full-time teaching any more. I am therefore semi-retired from teaching. I'll rely more on self-employment, in various roles providing various services including tutorials. Speaking examinations, ghost writing, translation editing, tutoring are all contractual gigs which are classified as self-employment. Right now, I have enough income to afford a holiday, pay off the cards and save a bit. Let's hope things remain that good for awhile.
-social. No more online dating. Not good experiences. Just seeking friendships, building on existing ones and enjoying my independence. Getting out a little, though it would be nice to take in a concert or show with some compatible companion now and then.
November begins the reflective year-end time for me. My birthday in mid-December is approaching and soon after that the conclusion of the calendar year. It is a reflective period for me--a time to assess what I have been doing and where I'm heading. I am gearing up to do that and review and reset my goals.
In this part of the world, the weather gets dark, cold and rainy in November. It can be downright gloomy. Like other people, I usually feel blue in November.
The autumn and winter of this region is not like the rainy seasons of the tropics or deserts; rather, heavy rain commences and goes on and on for weeks. Wind storms may rev up during them, too. Also, the day light shrinks. Sunset begins just after four in the afternoon these days, to give you an idea of the darkness. People turn on the lights inside their homes and workplaces during the day.
No wonder the number of deaths and the rate of illness increase in November in the northern hemisphere far above the Tropic of Cancer. Indeed, the season prompts thoughts of death and the dead. Many countries have special ceremonies and traditions to visit graves, remember and honour the ancestors in North America and Europe. There are many articles, radio discussions and TV programs about them. Moreover, we have Hallowe'en, France its Mummers processions and Mexico has the Day of the Dead. It is the time to honour the victims of war and pay homage to soldiers and civilians killed in wars.
One has to brace oneself and get ready to fight off the gloom. One has to be prepared. One has to take vitamin D supplements, schedule exercise and social activities, plan some fine meals so as not to sink into a mire of despair. It's a time when people here start thinking of flying away to somewhere warm and sunny. Several people I know have already begun winter vacationing, actually.
As for me this autumn, the blues came early and they hit me hard. Seriously. By the start of November, I was steeped in sadness. Tears threatened all day long. I was starting to think I should see a doctor about it.
Probably, the recent news of the death of a friend overseas affected me. Also, November is a time when both my parents, in different years, passed away. Perhaps a recent family gathering evoked sadness related to them and other family tragedies. Plus, this Remembrance Day, on the anniversary of the World War One Armistice, was a much bigger deal because it was the 100th anniversary and I was involved in an activity recalling it.
But the dark clouds lifted from my life and light shone through after a couple of weeks. I feel fine now, despite the rains and darkness outside. 
When I think back over the past year, I am amazed at how peaceful I have felt most of the time, despite a couple of big setbacks. I remember moments when I was home and waves of serenity engulfed me. I felt perfectly in tune and content on several occasions. 
It is good to have reached a point in life when many issues have been resolved and a person knows what is going on inside them, who they are and what they want. That in itself is a great accomplishment, I think. 
There are signs that I am on the right path, despite moments of doubt and confusion and times when things do not appear to be working out. Look at my work situation, for instance. Employment teaching has not worked out recently, but I am engaged in some self-employment and I have some income support. One of my income-generating activities is a bit of paid writing. The company contract writers to research and write short assignments for clients. From the lists of jobs I've seen, I have chosen a couple of projects writing about psychology lately. I thus find myself writing about narcissistic mothers and their daughters this week. I have become more conscious of my own mother's symptoms of narcissism and the effects on me while writing this work. It was serendipitous. Interesting that I ended up writing about this topic on the anniversary of her death, November 16! When I realized the connection with my life, I thought it might get me down to be writing on this subject, but it has not. I feel fine and I am able to write about it and reflect on my own experiences calmly. I am at peace with all the stuff around my experience with my mother. 
I feel there is a lesson in this situation. I am supposed to be thinking about these things, perhaps.
I will say more about my progress and begin the year's assessment soon. Stay tuned.
By the way, I have booked my own little sunny holiday for Christmas. Trying to let myself enjoy it. Fending off guilt and second thoughts.
/