EDITOR AND EDUCATION CONSULTANT
The cooperative movement encourages and assists the formation of worker co-ops. Advocates and their organizations lobby for legislation to require companies to first offer their employees to buy their firms before they invite other interests to do it. Such legislation exists in some states such as the UK and some within the United States of America. Some employers prefer to do this, for they respect their workers and their work and do not want to cause them harm. They may believe that their businesses would be in better hands were the employees to take them over rather than strangers and people who are not so familiar with them.
Where there are allowances for workers to take over the ownership of enterprises, rules and a lending system are in place. The government provides low interest loans and a framework and training for workers' collectives to be able to run companies themselves. In some cases, workers can make arrangements and find funds on their own. There are organizations within the cooperative movement who can educate and facilitate such takeovers.
The cooperative movement does not challenge or object to trade unions; there need not be a conflict. Some unions support workers' co-ops, for they see them as allies and the co-ops, if unions are friendly, see the unions as allies. Collective agreements can offer ideas for the terms of a cooperative arrangement that guarantees and protects the workers rights and safe and reasonable working conditions. However, a worker-owned business would not need a union. Worker's unions are established as a defense against exploitation by owners as all owners of private enterprises profit from the labour of their workers and they do so by keeping wages down and trimming overhead costs by withholding resources and measures that would make workplaces safer, healthier and more comfortable. Private owners certainly do not want to give over the decision-making to workers--no way! They have management to impose restrictions such as time limits and methods. Workers are always pushing back to improve their earnings and conditions.
A cooperative is far more democratic. Workers within it, whether it is a fast food enterprise or a factory, meet and have an equal say in how the work is done. This arrangement is far different from the typical employment where the owner and his representatives command the workers, dictating everything they do at work, from when and how long to use the toilets and take meals to procedures and reporting. Contemporary workplaces may adopt a friendlier management style that shows signs of more respect and appears to consult employees, but you know that the employees' say doesn't count for much; it is still dangerous for them to say anything as their words can be used against them in the end. While there can be all sorts of personalities and ideas present in a cooperative workplace, the relationship of the employees to it and their work is fundamentally different. People simply cannot be abused much since their is no owner exploiting them and everyone who works there has an equal status. True, there can be variations in salary levels considering varying education or training and experience levels, and a bonus system can be implemented as an incentive or reward.
The cooperative workplace has potential to develop a communal environment wherein workers get to know each other, socialize and assist each other with the problems and demands of life even outside work. In fact, there is a societal vision and philosophy around the worker-owned-and-run cooperative enterprise. It is a vision of a cooperative and caring society with a profound democracy. It is a new kind of communism, a society empowering the people at the base without a government functioning as a centralized decision-making order overseeing and commanding the society. Government has a role in providing services and resources and setting regulations and laws. However, it is one with proper representation of the people, not business owners that dominate and drive and bribe the government to do their bidding to make life richer and more comfortable for them alone. No, it would be a government with proportional representation, perhaps with regional and national election candidates coming from councils filled with nominated and elected workers from the cooperatives and other mass organizations.
There is also a vision of new kind of international relations based on cooperation and aimed at avoiding and settling conflicts through negotiations that would not allow war to break out. the United Nations Organizations would have to be rebuilt and refitted to serve these aims.
An model of a cooperative world has been drawn up by the "All things Cooperative" division of "Democracy @ Work". Here is a link to a video about it.
https://www.youtube.com/watch?v=u-T0XOA5hI0

Without the communal experiences that common people set up for themselves, life is harder and colder. Without the social and recreational organizations, ceremonial practices, neighbourhoods in action, nonprofit organizations and various associations in which relationships and support networks, what is there?
Workers do not have control over their workplaces, so communal experiences cannot be counted on there. Except for recognitions of birthdays, the Christmas party and occasional lunches together, if the they are lucky, employees must perform prescribed tasks on a given schedule and be subject to monitoring. Atmospheres and management styles can vary, but generally employees grab what chance they can to enjoy the coworker relationships but beat it home, happier to escape the confines of oversight and regime in an enterprise directed by others who reap the most rewards.
School does not always provide relief, either. Private schools are generally business or religious settings run according to a corporate model with its quantifiable assessments and goals. In many countries, public school is an institution regulated and prescribed by government, and are often large. From upper elementary ("middle school" to some) through secondary school, the ambiance cools down and the focus on scores is sobering. After years of neoliberal austerity measures, too, there is nothing much in the budget to provide extra-curricular and cultural experiences. Even if there are student clubs and a student council, the object is career driven, with the ambitious eager to scratch notches on their resumes. Teachers and concerned observers complain how schools, reformed and relaxed somewhat in the 60s, have become like factories.
At least any school is a place where friendships are made. The local elementary school might be the only locus of communal activity. The degree of communalism depends on the location of the schools. Some school boards that ascribe to a more humanist approach, especially as concerns the youngest of the student populations. Parents are involved. There could be exchanges and special days. Teachers can assess a student's wellbeing, family life and outlook and try to intervene with one sort of support or another. Volunteers from the community could be in the classrooms and hallways. Also, the school can be used for community meetings such as political campaigning and election polling. There may be continuing education classes run in the evenings and on weekends.
Without much else in the way of community networks and activities, children and parents rely a lot on the school for social nourishment and growth. this could be why it is reported that many youngsters and teens suffered a lot during COVID lockdowns. Most people were cut off from communal experiences and community life. If both parents were absent from the home to earn their livelihoods or very preoccupied earning money from the home, even family life was inadequate. Families with more resources, of course, could manage better. It was the poorest who suffered most.
Without other communal offerings, people hang around shopping malls and parks. They may get to know others who work at or otherwise frequent those places. They may make and meet friends there. However, there is not much in the way program and structure. It's every person for her/himself.
People who either start associations and get something going or pay membership dues and join some existing thing are much better off. Their lives are richer and more fulfilling. They should support people's associations and organize them to build society in a positive way.
Recreational clubs are communal to one degree or another. I belong to several, as I like casual sports for fitness, culture, interest and social activity. They are all communal in that they are groups that share space to do things together using common resources.
For example, my ukulele club meets in a regular club house and plays together following a leading musician. We participants donate a few bucks at each session to support this leader. Members get to the session on his/her own means. We drink and chat together as well. There are no other meetings of this group other than practice/ play times.
My hiking club is another example of a common group experience. It is a couple of degrees more communal than the uke club. We have to register, pay a nominal membership fee each year and follow designated hike leaders who plan each hike. There is a publicly accessible website that bears a calendar, information on each scheduled hike, and reports on past hikes. Our annual fees pay for it and liability insurance, nothing else. There is a car pooling system for transportation to each location of hikes; passengers pay a set amount to the driver to cover fuel each time they are driven to a hike. The trip leader ensures that there are a few photos taken of the location and participants of each hike, which will be posted along with that leader's brief report on the hike. While hiking, we get to know one another. We bring our own lunches, though. There is only one social event each year: the annual barbecue at a favorite lakeside place. Someone lends a barbecue or two and everyone who goes is supposed to bring a little food to share. However, the picnickers bring their own items to barbecue. There is minimal cost to participants and no cost to the club for this event. The province regulates and oversees all organized sports in the province, so this club must follow the provincial regulations and the insurer's stipulations. The city carries information on the club and provides a few gifts to distribute to club members on the day of the annual social.
The most communal of all the recreational and cultural clubs I belong to is the lawn bowling club. This is a traditional English sport that traditionally serves older people. A whole community thus revolves around the local lawn bowling club. Although the provincial government sets the standards, the city provides a subsidy and the property including the equipment shed and clubhouse. Therefore, city staff clean the washrooms inside the clubhouse and manage the flower beds inside compound regularly. However, members do everything else themselves; it is a member-run organization, with members paying an annual fee to cover insurance, maintenance, outdoor equipment and kitchen and game room supplies. Besides the annual membership fee, we each pay a couple of dollars each time we play a game so that we provide additional funds for snacks, the maintenance of the green and seasonal prizes. Members can drop in any time to present themselves for games on bowling game nights three times a week and one bowling morning session once a week. There are competitions against nearby clubs at least twice a bowling season. The club also runs a croquet evening. There is always social time after games, which volunteers from among the membership organize to set up tables, prepare and serve food and clean up. Volunteers take care of grounds and run the games. In fact, this club is a full-fledged nonprofit society with an executive body. There is one official coach to train members and apply the rules. We follow international rules and techniques established ages ago in England. Though the club keeps some spare equipment, members have to acquire their bowling kits each containing four uniquely marked bowls and paraphernalia.
As such a developed tradition, community lawn bowling clubs provide vital opportunities for socializing. Seniors benefit tremendously and enjoy it for the outdoor setting, the company, the mild activity and thrill of the game. Older people can play this despite some physical restrictions and weaknesses as they age. People join as of their late 40s; they typically are people who enjoy sports but who have had some kind of long term injury or ailment, or are just looking for another way to relax outdoors on spare evenings. Many are longtime members who play until they are no longer able at a very advanced age. In fact, club archives with photos are kept and memorial plaques for the most active members are displayed.
The social schedule of the season offers a lot, from the monthly barbecues to the holiday bowling lunches and the season opening and closing banquets. Participants bring their own lunches to the holiday games and salads and such to share at barbecues, when individuals bring their own items to cook on the grill. The opening and closing events are ticketed meals, but surplus club wealth is used to provide gifts beyond the raffles tickets that are offered at each banquet.
The bowling season is only three-and-a-half months long, but the club remains open all year round. There is one card, one darts and one carpet bowling session each week so that members can stay active and engaged with this community. Surplus funds from the summer season provide small snacks. People can buy beverages at each season; a volunteer keeps it stocked up.
The games organizers keep stats of everyone's performance in all the clubs games, from bowling to darts, so that the persons with the highest scores and most wins can be identified and rewarded a little monetarily from time to time.
You can see that the lawn bowling is a full communal experience. It grows a community who do many activities, physical and social, together regularly in a communal space. Lasting friendships form. The membership develops to a more intimate level than other types of recreational clubs. Things are planned to be fair and inclusive.
I am reflecting on the memorial banquet I just attended. Friends, family and extended family came to share memories and catch up. Now I'm thinking how much such an event is a communal experience. First I consider who and what makes up a family. Then I consider how people rally around someone in need.
In the case of this gathering, close friends and extended family were quite a mix and acquainted in a variety of interesting ways. Of course, there was immediate biological relatives and relatives by marriage. In addition, there were several cases of close friends and family established by volunteer child raising. Here is an example. One man had been in a relationship with a drug addict who continued to help to raise her child well after breaking up with the girlfriend. That child is now a young man who attended the honouring of his quasi-uncle with his wife. Another man brought his biological daughter and grandchildren, as well as a teen-age adopted daughter whom he and his late wife met as foster parents when she was an infant; they looked after that girl for a few years and opted to adopt her after the natural mother, another drug addicted, passed away. There was a young child at the dinner; she was there under the informal guardianship of her mother's friends, the mother being absent and unable to take care of her. These are all examples of stretching the perimeters of family to
take care of people where there is no obligation by birth or law; people help because they care.
After the meal and the planned proceedings, informal chat gave rise to a few exchanges about different types of services and individual preferences. One issue is notification of the passing. One person may have a larger or different sort of network than another. How and who to notify? What is the responsibility? I got to thinking that various people well acquainted with the deceased through work or other organized activities and by proximity. If any of them learn of the passing, chances are that someone among them will respond on their own initiative and hold some sort of event to acknowledge it. Take community and leftist social and grassroots political activists, for example. It is normal for fellow activists, perhaps organization leaders or volunteers, to arrange something apart from what the immediate family or close friends do; the activity could be a letter to the family, a public message, a small gathering or a larger service. Work or recreational/ social club mates might react similarly.
Then I got to thinking that there are a lot of situations of people helping people. Disasters are obvious examples. People will open their doors, provide food and supplies, donate money, etc. On the other hand, there is a lot of talk about how the population will respond to severe economic conditions as stagflation strangles economic life and a deep recession unfolds in the USA and Canada. I hear many expressions of fear. The gun promoters and survivalist convey great fear about their neighbours who they surmise will run rampage thieving and killing to stay alive ,so stocking up on guns, ammo and necessities and preparing to defend themselves or perish is recommended. I, though, believe in human kindness and concern. I think that many able people will organize to take care of each other and try to repair the crisis.
Think about it. Who runs shelters, kitchens, mobile street services, and outreach and counseling? Who sets up charities and nonprofit or self-help organizations? Average people step forward to work hard finding resources, making public appeals, researching and sharing information, obtaining qualifications, getting funds, and so forth, and they are often volunteers.
Sorry for the lengthy absence. I do not like this blog format and input process, for one thing. For another, I did not have another theme except peace; I cover peace at my Just Peace Committee page on Facebook and my justpeace.blog (Wordpress) as well as in an internal newsletter for the International League of Peoples Struggles (peoplesstruggles.org), which is the Commission 4 publication called "Peace 4 the People". I also write statements for ILPS Commission 4 and Just Peace Committee, internationally and locally, respectively.
In my activism for peace, we confront imperialism (domination, exploitation and plunder to make astronomical wealth for the few) that is the main source of various forms of violence and oppression. The long term goal is to build an alternative to monopoly capitalist imperialism, which concerned people involved generally call socialism. There are different types of socialism which are mainly state control of land and production and state laws and programs to provide social benefits and protection to the masses. Communist parties have been able to rule and institute vast state socialism through revolution and through electoral campaigns and reforms. We can think of Cuba and Venezuela as examples of one and the other. From the 1930s through the 1970s, US and Europe-based capitalism made compromises to socialize some industry, provide social programs, build infrastructure for working people, and so on. Capitalism's weaknesses, though, could not be avoided: wars, periodic slowdowns, debt and currency crises. The neoliberal approach of the 1980s to 2020 ruined that project by dismantling it and privatizing and deregulating everything. Politically aware intellectuals and working folk are talking about socialism again and decrying "the imperialist system" and all its violence and ills.
Therefore, I have been thinking about socialism. Capitalism is not working out; it is in total crisis, at least US-based monopoly capitalism is. The crisis is economic (stagflation, approaching recession, debt), social (rising suicide, alienation, displacement, bigotry, disruptive and dysfunctional family life), education (rising illiteracy, lack of supports), health (insufficient public care for all, rising mortality and morbidity, mental health and opioids), unemployment or underemployment, housing (quality and affordability with rising homelessness). I don't have to tell you.
If more people continue to get politically active and join protests, they can only be effective when they join forces, share info and materials and ideas, collaborate and make demands for change together. All the movements have to come together as one to confront imperialism. It has to have a grassroots, worker and poor people base.
What alternative and how can we get there? Through collective action and discussion, forms of organization come into being: cooperative enterprises, committees, shelters and workspaces, bartering and sharing arrangements, social and recreational clubs, nonprofit enterprises and charities, popular non-corporate media, art projects, education and skills training programs, worker-owned factories and so on. Oh, you have heard of at least some of these? Yes! They already exist. You probably realise that they are each a product of local struggle. You probably know that they could not be accomplished by a single person, but rather had to be by a collective. When victorious, such endeavours result in people/ worker/ community-run, autonomous collectives that serve the people somehow. The struggle may have required and won state funding and legislation, so that many such collectives are state supported. It is this collective, popular action and organization that interests me, for I see it as the foundation for a whole new society that cares about and operates for and by the people. I envision a governance of representatives from among the communities and collectives that does not own and control projects and enterprises and programs but is designed to facilitate and support them.
The socialism built in the Soviet Union and elsewhere has largely been systems of state ownership, control and direction of production and community life. I am not knocking what has been achieved. Clearly, the people fought and worked hard for it and benefited from it for a few decades. It is the top-heavy, top-down system that is vulnerable to corruption. Economic critics of capitalism have also reviewed former socialist states and come to accept that, to date, they adopted a capitalist production and distribution model, though wealth and production was not in private hands. State-owned enterprises used the monetary, price and wage system and accumulated wealth, which was to be redistributed into investments in infrastructure, homes, services, culture, and factories aimed at continuous expansion. In other words, they borrowed the capitalist model and changed some of the language. True, there were local committees and trade union and party locals from among whom representatives to the massive regional and state assemblies were regularly and properly elected. However, democracy was at risk and the state vulnerable to corruption as long as the economy and management were centralized. Too much power in too few hands.
Today, new models of socialism are being discussed. Many prize communal life and governance. I want to think about this approach.
The next steps will be to look at examples of communal life around me. You probably have not held communism high, but that ideal is alive and well around the world as people continue to form and run various types of collectives. You likely belong to one or support one. I will discuss how much each case is "communal".
Communal living is my new thread to be discussed in the next few weeks, if not months. Stay tuned.
I attended a seminar on cyber hacking and sabotage. The speaker is a computer programmer. She explained that cyber attacks are bombardments of bots that overwhelm a page to impede its operation. This is why a targeted web page cannot be found sometimes. It can be why data does not get saved.
I believe this blog has been attacked and that is why I have hardly been able to post anything all year. I think the reason is the political content. 
I am working to try to thwart these attacks.
Today I found the courage and resolve to let go of a toxic relationship. I made the decision that it is a positive step to dissolve such a soured relationship.
I have discussed this sort of problem before when I decided it was healthier for me to back out of associations in some cases, while generally looking to build positive relationships in my life, and consequently the community around me. I dealt with this while writing "A Year of Living Positively" as I went through a couple of episodes with people who breed negativity in my life. I never felt comfortable with them. They were people who made me feel smaller. Back then I asked myself, "Why stay attached to people who cause me to feel lousy, and invoke behaviour I do not like in myself?" Best to remind myself of my own self-worth and know when it is worth it to leave, stepping back defeats negative factors and strengthening the positive.
It seems like departures take place far too often in life. I guess only a few people are fortunate to have a more secure grounding and live genuinely in nurturing social environments. I believe that kind of situation to be rare.
It is always painful at one level or another to break away. It is also a mental adjustment. You know when it is healthy to do so when your body relaxes and you can breathe better once the step is taken. Nagging thoughts as well as feelings dissipate. It is harder to accept in certain circumstances, though, like when a purely social association is involved, or, worse, when it revolves around a social cause or community service. When the object is to assist others or provide a friendly occasion, why are some people fearful enough to let their anxieties or resentments or desire to dominate get in the way and rupture what could and should be a positive experience? I don't know, but I know I don't want to be around them, even though it may interfere with one of my set goals, desire for company or ideological or political aims. If it is a destructive situation and the fight is not a life or death matter, then leaving may be a solution.
At the heart of the matter in my story today is a spiteful woman who does not like hearing "no" when she wants something. She is vengeful. She caused some wrecking of a non-profit association last year, which I was able to repair. She had spread gossip and negativity because a conference turned down her application to present. She retreated into the background but she got extremely busy on the internet, particularly in social media promoting herself, and self-publishing this and that to construct a facade of an expert. Just when things with this organization got back into the upswing this year to the point where I thought things had stabilized because we had organized successful public events, she is at it again. Her demands to make a presentation to members was rejected by a leading figure (me)and she again resorted to personal attacks and gossip through her circle of friends to thereby inflame a situation and distort information.  She has too much influence socially and she is able to manipulate those volunteers still active at meetings, and they have too little experience and insight to see through it and appreciate the larger picture. This person is never concerned about others or the state of the organization; rather, she talks about herself and her views, trying to build herself up by knocking others down, and can see little else. By her indirect interference, she has practically destroyed the Chapter this time around. I was the target of her vengeance and spite. I could no longer endure and threw in the towel. I cannot function in such an atmosphere any more.
I do not know how my accusers will be able to rescue the organization. As things stand, there is not much skill or will left to do it. I tried. There is nothing more I can do anymore. I was very uncomfortable and endured put-downs, hostility and coldness all along for the sake of the larger cause, safeguarding an important service to the community here, but I can no longer endure.
To the main protagonist in the drama to beat me down, I suggest she get psychological counseling. For me, I can now fulfill a 2015 New Year's pledge to withdraw from volunteer work by allowing myself to drop this last standing volunteer commitment and set myself free from the possibility of any such wrangle occurring in my presence in the midst of altruistic benevolent activities again. Sad, but that's the reality.
Ode to Abelard
Oh, how I love thee!
-too many ways to count
It is not your beauty alone
And I don't want to say, "I own"
No, it is because you are there
But never in my hair
We have drawn our boundaries
And they we respect
We each have our space
And so live in grace
He does his thing,
And I do mine
Yet our hearts e'er do entwine
Precious moments we do share
We pay attention and care
He's a positive force, whatever the weather
What's more, we have our meals together
Though tastes may differ 
He does not mind if I'm the breadwinner,
And he is always there when I'm home for dinner
He greets me with his song
For which all day I long
I don't care if he is shorter
And has not built a career
Sure, I do most of the chores
But he never bores
His antics are quite entertaining
And his hygiene he's always maintaining
He's keen on fitness, though addicted to seed
Still, he gives me all that I need
He sings to me in the morning when I get up
And at end of day when all is set up
He sticks to his routine, and takes early rest
After satisfying meal
Tranquil evening 
He never wears me down with gripes
I never tire of his extraordinary pipes
To boot, he sure knows how to dress
Guests, he never fails to impress
Yes, he plays around a lot, but it's just pure fun
It's all platonic; I'm sure he won't hurt anyone
I love thee for all the above
You're here with me purely for love.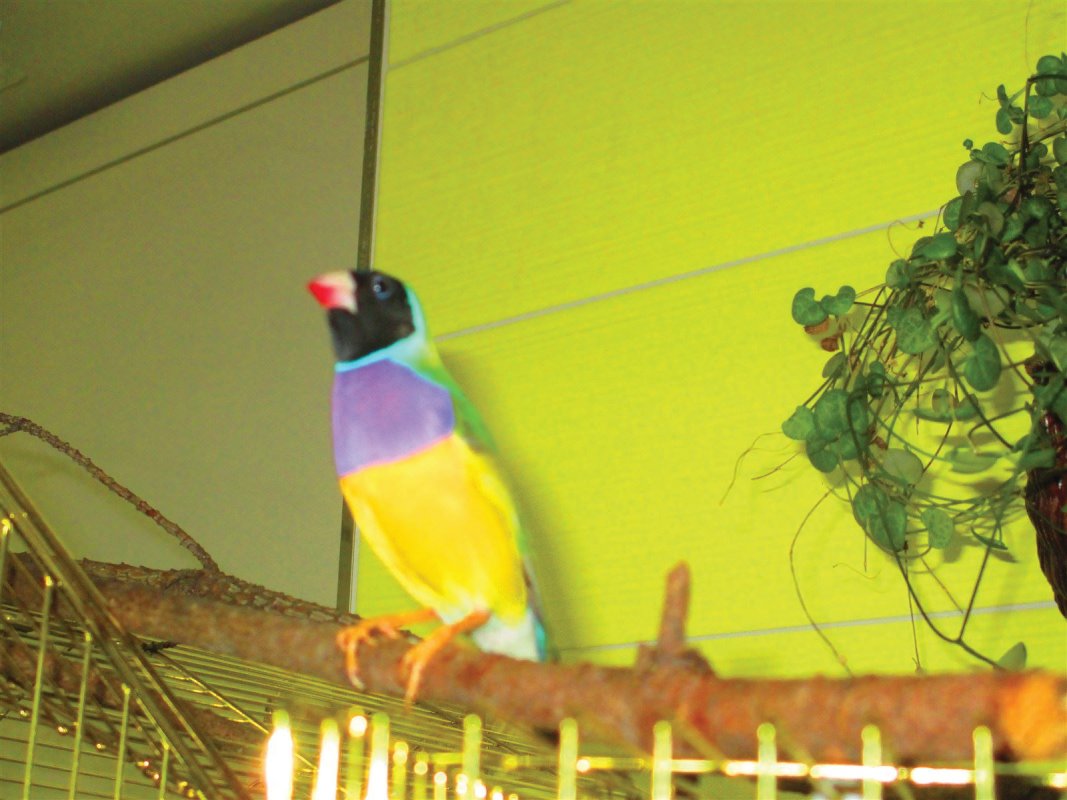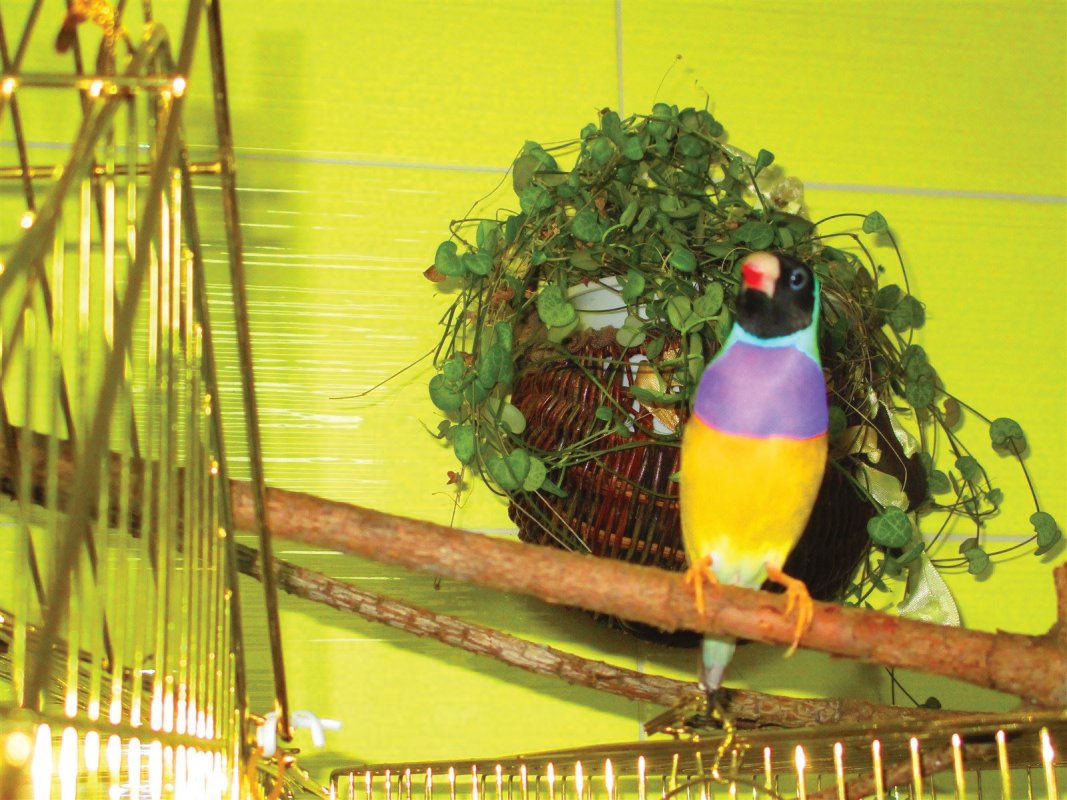 I taught the last class of the civic employees. I played some clips of the old Mr. Bean TV show for comic relief--relief from the serious discussion on the disabled we'd been having for 1.5 hours, and relief from the sadness of parting. It was very touching when I left, as I could tell we were all a little sad all the same. 
Here's a view of our last discussion. Hello, Irene! Irene follows my blogs.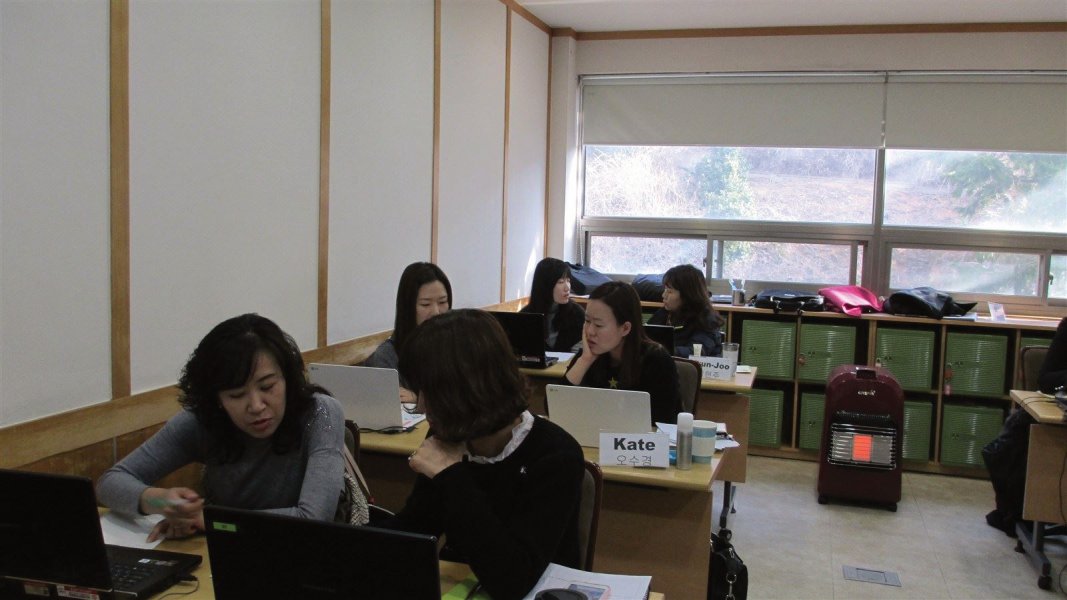 Here is a view of the staff cafeteria, where I ate for probably the last time. I got there at 11 a.m. and I was the first diner; the food services manager ordered the preparation expedited so that I could eat right away. It being Tuesday, stewed mackerel was served, as expected.
Here are some views along the uphill trek through the Uam-dong campus of BUFS going the building that holds the staff cafeteria up to the building that holds my office. It was a typical winter day, with mostly sunny skies and a temperature of just above freezing.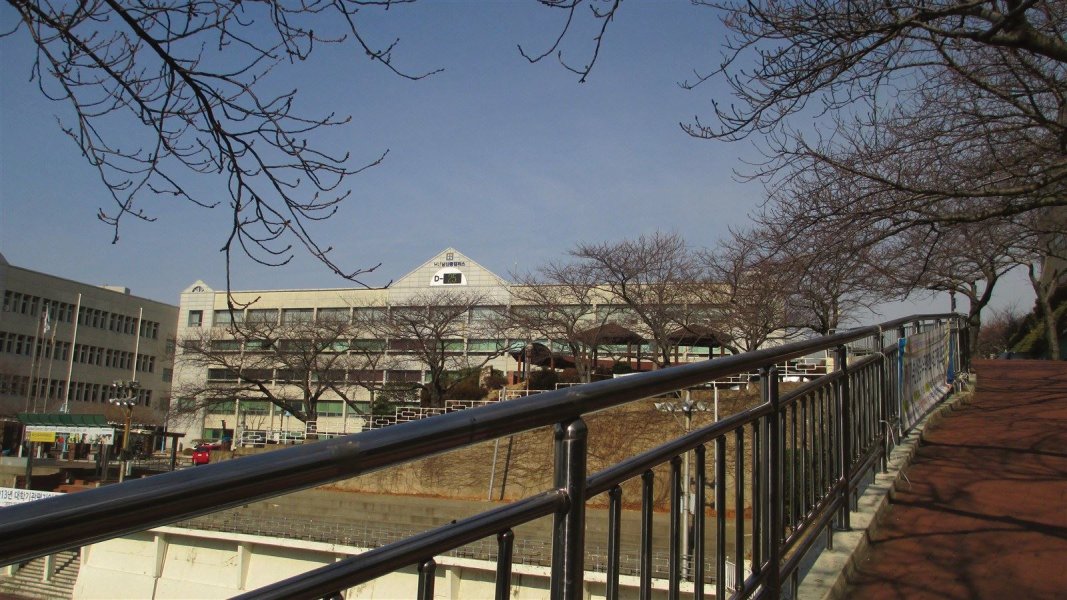 IT building in front of the soccer field.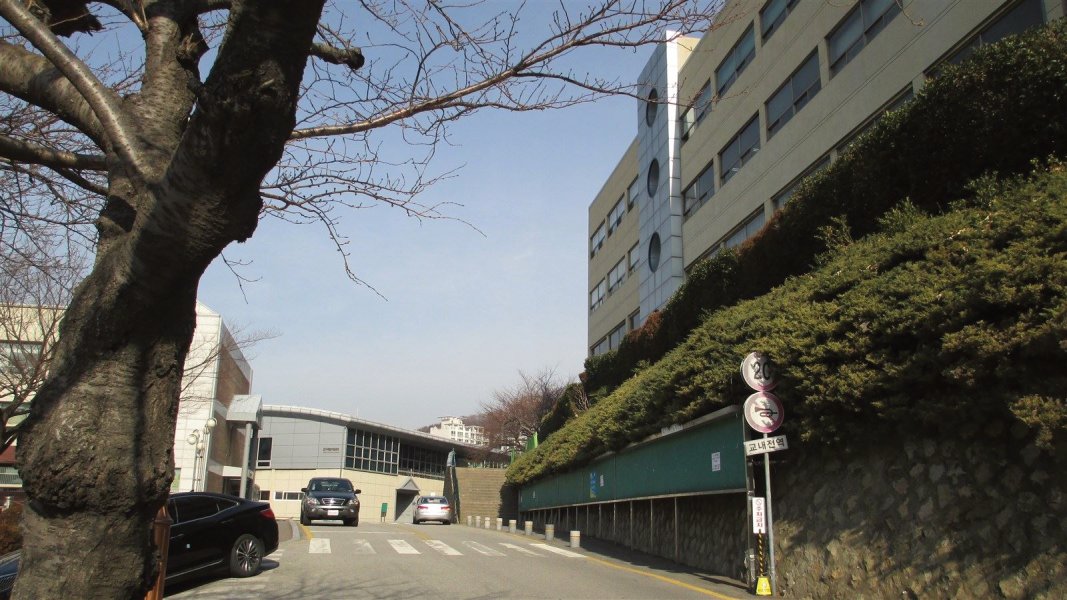 Lab Building on the right; Student Building straight ahead in front.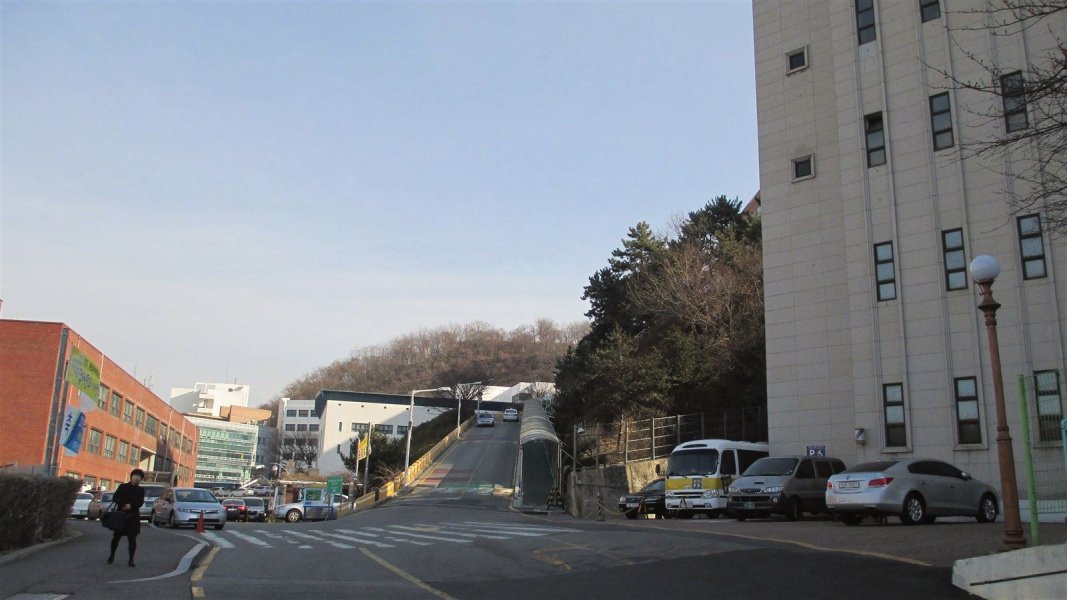 Library on the right; the red brick C block ahead on the left; and the roadway up to the next level ahead in the middle.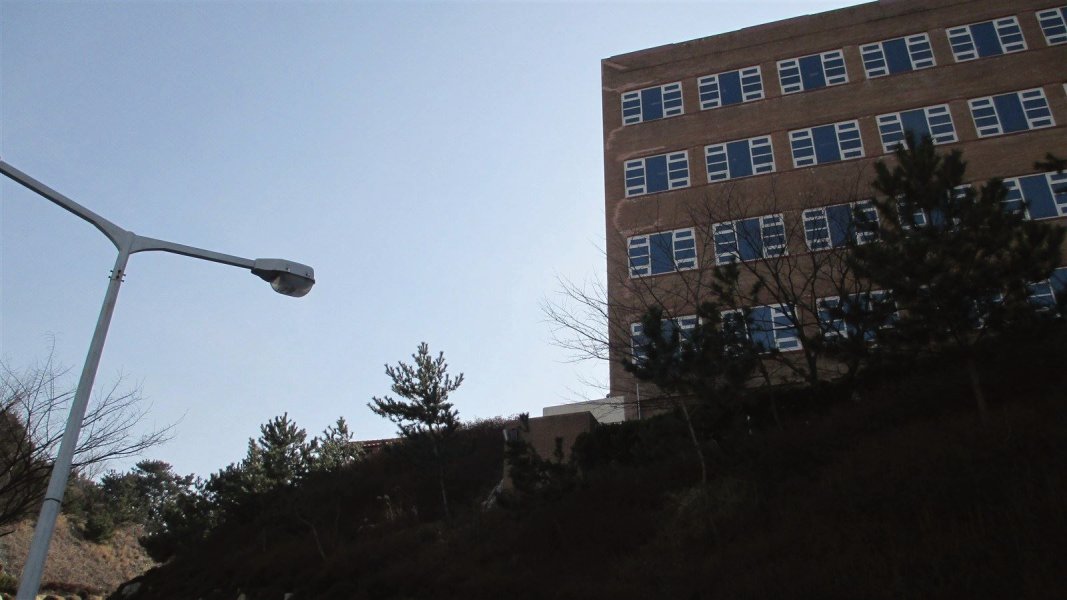 Now you're looking up at the F Building (yes, it has meant "F'n" to us!) at the top of the hill where most foreign language classes are taught.
After my early lunch, I had some time to spare. I stayed in my office and decided I may as well do a little packing. I folded a couple of boxes and bound them with packing tape, and then filled them with three years of class records and some office supplies.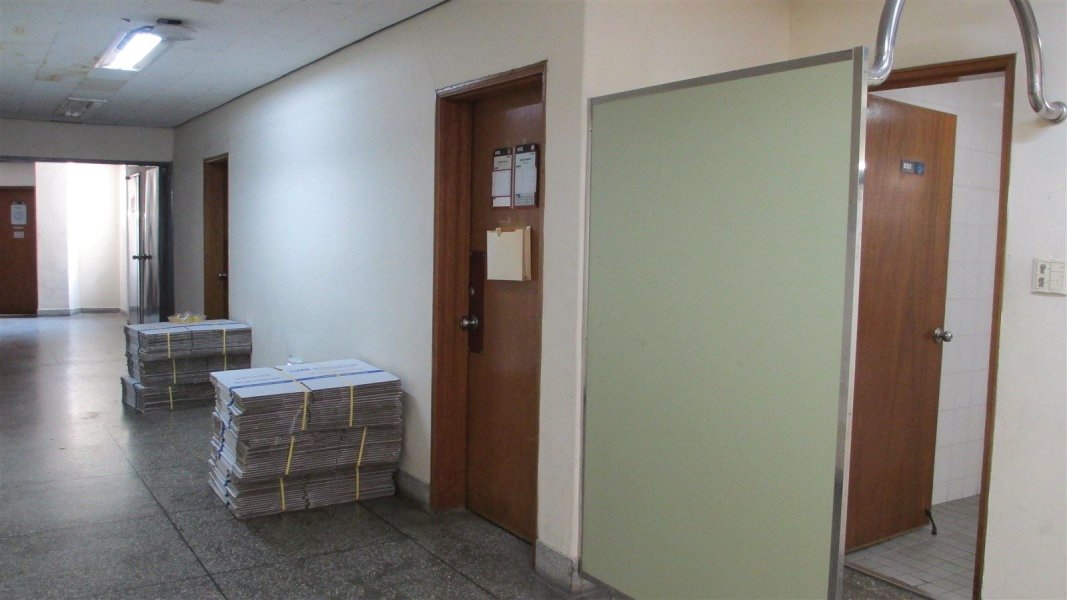 Here's a view of my office door, boxes stacked up next to it. On the right is the female students' washroom, and it is right next to the stairwell that leads from the back entrance. I won't miss that location in the foreign teacher "ghetto"!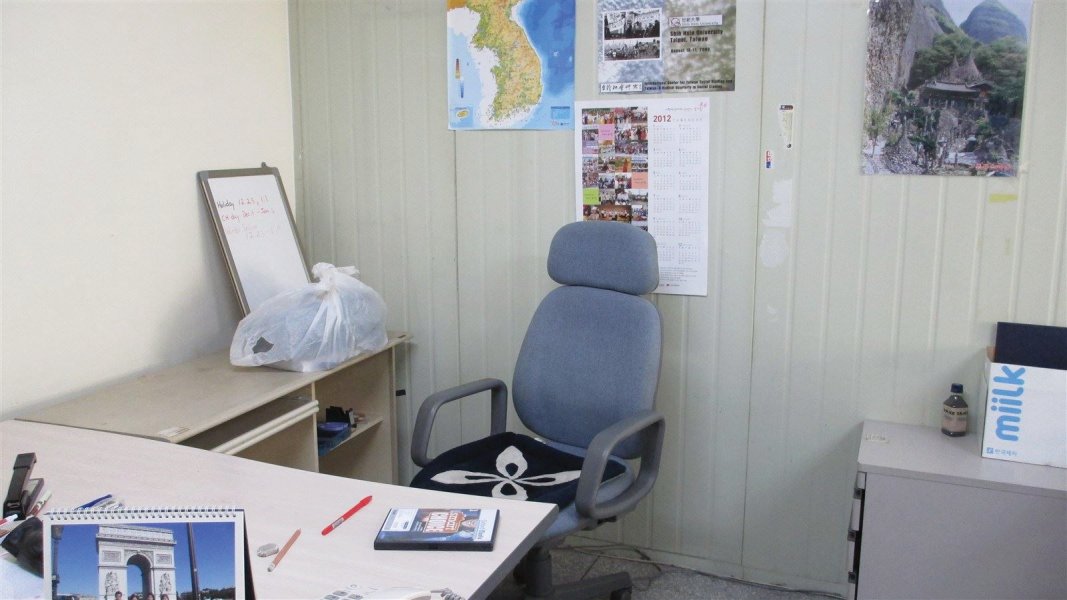 My work station, most decor and computer hardware removed. The printer that I dragged home today sits wrapped on a desk.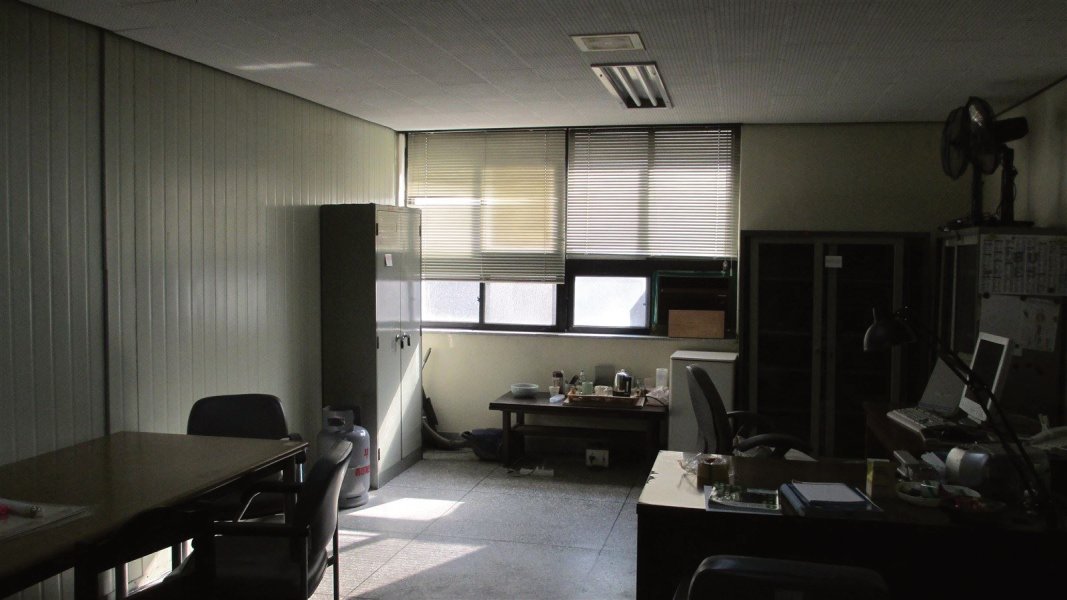 Looking to the rear of the office with my mate's work station on the right. I've been removing a lot of clutter over recent months. It used to resemble a second-hand goods store. Actually, it is a partitioned classroom, with the spittle and gum left about 20 years ago still plastered to the floor. I know our new office won't be nearly as big, but it has to be nicer!
My sinuses were effected from just one hour of digging through old stuff and packing two boxes. They've been irritated and I've been staving off a chill all afternoon.
Well, a hot meal will help. It's time to make dinner: some stir-fried vegetables with pollock, I guess.
/